Are you a NetSuite user trying to improve the efficiency of your company's operations?
NetSuite Workflow is a graphical tool for customizing NetSuite to meet your organization and sector without having to master sophisticated JavaScript or SuiteScript code. Workflows may be applied to both regular and multi-action record types.
Here are a few workflow management strategies, as well as some of the best workflow capabilities, to give you the opportunity for your business more efficiently. But before we learn about those tricks, let us first know more about NetSuite.
What is SuiteFlow?
SuiteFlow comes as an effective app if you are planning to develop and apply NetSuite Workflows. It is a workflow management application that comes with point-and-click features for changing and customizing business processes right out of the box.
The system allows customers to easily simplify bespoke business processes, establish and execute sophisticated features, and generate workflow-starting triggering events. Not just that, it simplifies the journey of the user making it easy to design, amend, and handle workflow states, circumstances, and triggers in the NetSuite system.
Primary Features Of SuiteFlow
With so many functionalities in a single unit, it is crucial for NetSuite developers to have a complete idea of how to swiftly and cleanly update processes. The Workflow NetSuite allows the users to have a clear idea about all the tools of NetSuite and use them efficiently for the Workflow management by automating it.
It eliminates the need for suite scripts.
The process is simple to access, change, and develop.
Workflow aids in the validation and development of a unique model of a system's business process flow based on your needs.
It is simple to enable events that launch a process, such as establishing, viewing, planning, and amending a workflow, to trigger continuously.
Manual procedures should be eliminated from the system.
At every level of audit trials and transition records, workflow enables better decisions for process improvement.
The graphical interface for the workflow is simple to use, and we can do point-and-click activities.
How can you set up a Workflow?
Step 1: First, we should enable NetSuite's workflow capability.
Step 2: Getting Around:- Company -> Setup -> Activate the feature
Step 3: Enable the option SuiteFlow and Save under the Suite Cloud tab.
Apart from it, to access the SuiteFlow (Workflow) Interface, you can also go to:
Customization -> Scripting -> Workflows -> New after the functionality has been activated
Physically developing a workflow to test is one of the finest methods to create workflows.
You can even use 'Make Copy' for copying the workflow.
Let's see how:
Duplicating a SuiteFlow NetSuite offers the ability to make changes to various versions of a current process in operation without having to revert to the original. When you select the "make copy" button when reviewing a workflow record, NetSuite will save and replicate your workflow right away. When the latest version is produced, use the copied version as a preliminary step, implement necessary changes, modify the distribution status, and disable the previous version.
What are the few things that you need to keep while copying workflows?
All customizable fields must have distinct script IDs. If the algorithm encounters duplication, the script IDs in the workflow copy will be given a value. For a limited time, copying a process will produce two identical workflows. Because two workflows of the same ID running concurrently may cause both to fail, the copy's release status is set to "not running." Whenever the ID number is updated and the second process is ready for launch, this may be set to issue.
The workflow's custom fields are all transferred over to the revamped edition. The "make copy" option is only accessible in view mode; it does not allow you to copy or save a workflow in the admin area. Regardless of who the actual source was, the person who selected "create a copy" is the proprietor of the cloned workflow.
Workflow States
Even though the "Running" option is chosen, every process should have at least one phase. Else, it will not be started to run. States, which correlate to a cycle or phase in business operations, is the basic building block of workflows. Transitions link states to other stages and feature specified behaviours. To establish a state, enter an existing workflow by selecting "Edit link" from the workflow's context panel and choosing the "New State" button. It's now possible to add actions, variables, attributes, and transformations.
Workflow Fields
Although they exist within the workflow, "fields" operate similarly to fields in other NetSuite documents. Fields can be introduced to the whole process or a specific stage. The items sub-list has a procedure that allows customers to configure sub-list values. Prior to this upgrade, the only method to manage sub-list data was to have a strong understanding of SuiteScripting. Sub-list fields may only be used in the context of the before loading, before post, or after submit events.
Workflow Actions
You can design actions that enable status to carry out a command. A few examples of these actions include composing an email, adding a button, deleting a button, modifying an input field, going to documentation, and returning user error.
Creating a "Netsuite Sublist Group" For Utilizing Sub-List Actions
Generate Line is a new workflow action that allows for further customization of sub-list-related procedures by introducing lines to the sub-list and eliminating the need for SuiteScript. Specify the instance of the class, trigger type, contexts, and criteria that occur in this action committee when a screen appears.
Creating Line Action
The Create Line action is available in workflow definitions for record types that provide a narrow niche that SuiteFlow supports. Standard action fields, such as basic information, criteria, and timetable, are included in the Create Line action.
Specifying Triggering Events To Initiate Workflow
Based on particular triggers, NetSuite initiates a workflow instantiation on a record and a record interaction across states in a workflow. When entries are read, generated, or changed, triggers are triggered. Workflow implementations can also be configured to execute on records on a regular basis, such as quarterly, monthly, daily, or even numerous times per day.
What are the numerous properties of WorkFlow (SuiteFlow)?
The following are some fundamental workflow properties to consider while creating a process: -
The Stages of Workflow
Every process should have at least one commencement state.
Once you select the "Running" option for that state is chosen, it will start to run.
It includes Workflow's building components along with specific activities
Transitional lines connect jurisdictions with one another.
To make a new state, open an existing process and select "Edit Link" from the drop-down menu.
To add a new state to the process, click the "New State" button.
Actions, Fields, Properties, and Transitions may now be added to the workflow.
Fields In The Workflow
Fields may be added to a specific stage or the whole process, just like they can be introduced to any other NetSuite record.
Customers can use workflow to create sub-list data rather than utilizing SuiteScript to set sub-list data values.
Transitions In The Workflow
Transitions are simply the transitions among two states in a process, as defined by the workflow process.
For the various workflow stages, you may define conditions and also trigger condition alternatives.
Actions In The Workflow
Workflow operations enable a state to carry out a command in accordance with the process flow.
The following are some examples of workflow actions:
Send an email first.
Include a button
Take away a button
Assign a value to a field
Press the record button.
Return an error to the user.
Benefits Of Using SuiteFlow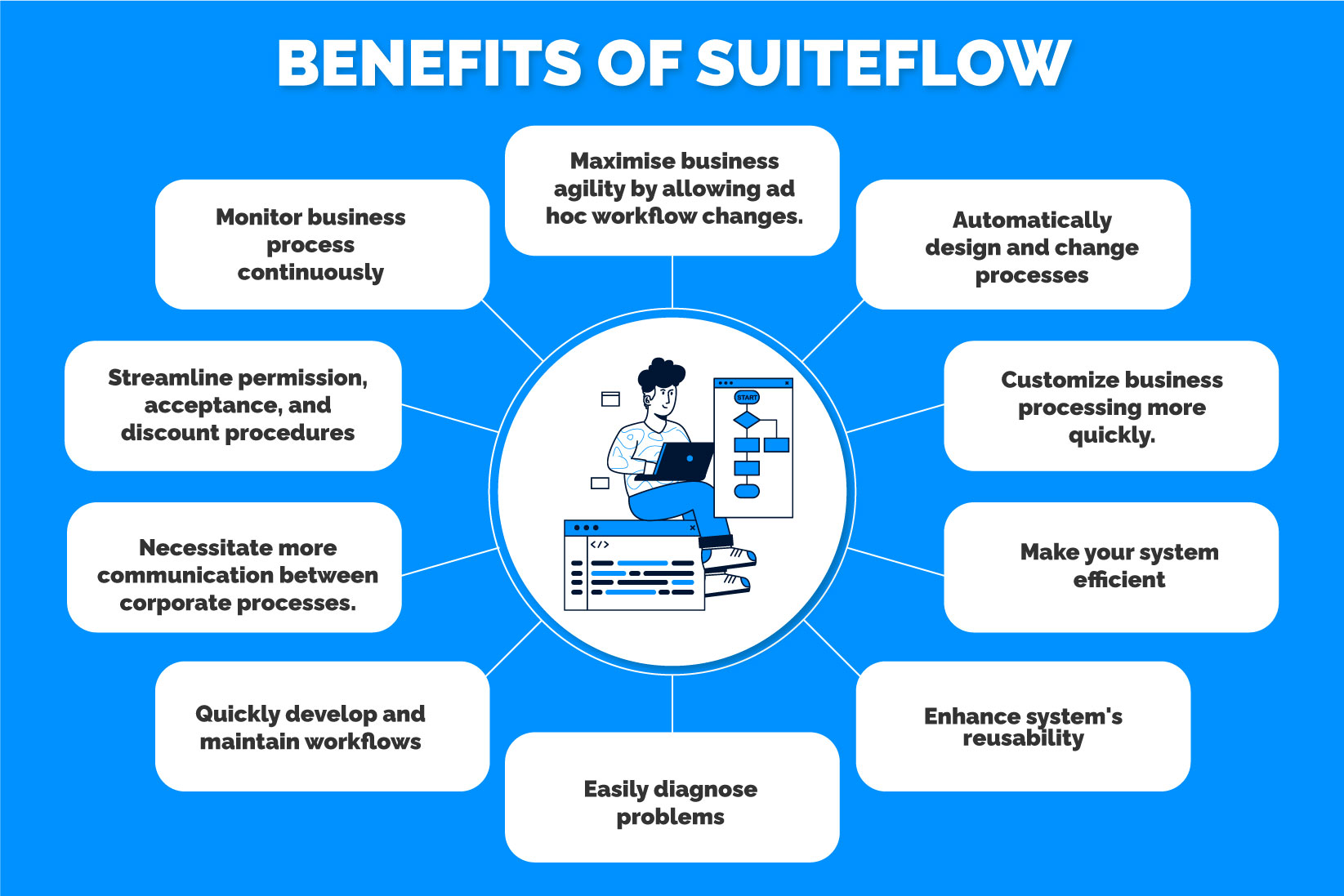 The major advantages of NetSuite Workflow include:
Automatically design and change processes to meet your specific business requirements.
Customize business processing more quickly.
SuiteFlow improves the efficiency of your system.
Save time by using a workflow condition builder and increase the system's reusability.
Use logging tools to easily diagnose problems.
Quickly develop and maintain workflows based on specific business requirements.
Necessitate more communication between corporate processes.
Streamlines the permission procedure, as well as discounts and approvals.
Streamline permission, acceptance, and discount procedures, among other things.
Boost business process communication by monitoring them on a regular basis.
Is Using SuiteFlow Really Effective?
Based on particular NetSuite WorkFlow triggers, NetSuite starts a process on a transaction record. When records are changed, produced, or viewed, triggers are the activities or events that occur. We may also organize the process instance to run monthly, weekly, daily, or several times each day.
Workflows in NetSuite are focused on a completely single record. Using workflow, we may track and review the status of work logs for records. Since a direct hop to another record is not possible in NetSuite Workflow, we may utilize the 'Go to Record' method instead. As a result, a platform like NetSuite simplifies company management. NetSuite can greatly assist firms in resolving challenges using automated technologies and real-time data.