Food and beverage industry is going through a rapid transformation as software automation is increasingly playing an important role in food production, supply chain management, and sales. For food and beverage software development NetSuite ERP suite of tools is gaining popularity because of the huge scope of customization and powerful features and capabilities taking every aspect of the industry ranging from the production, planning, and strategy, distribution, supply chain, and sales.
Apart from streamlining the manufacturing process with NetSuite food manufacturing ERP software solutions, food and beverage brands can utilize the NetSuite ERP systems for ensuring smooth distribution, inventory management, warehousing, supply chain management, and sales.
When Uncertainty Ruled The Food & Beverage Industry
The Covid-19 pandemic has brought new challenges to the food and beverage industry. Apart from facing the challenge of staying operational, the entire sector now has to meet stringent hygienic practices to reassure the customers about keeping the contagion at bay. To face this double challenge of keeping the operational costs lower and conforming to hygiene norms, e-commerce stores selling food and beverage items need more well-equipped management software solutions.
NetSuite: The Core Of Successful Food & Beverage Software Development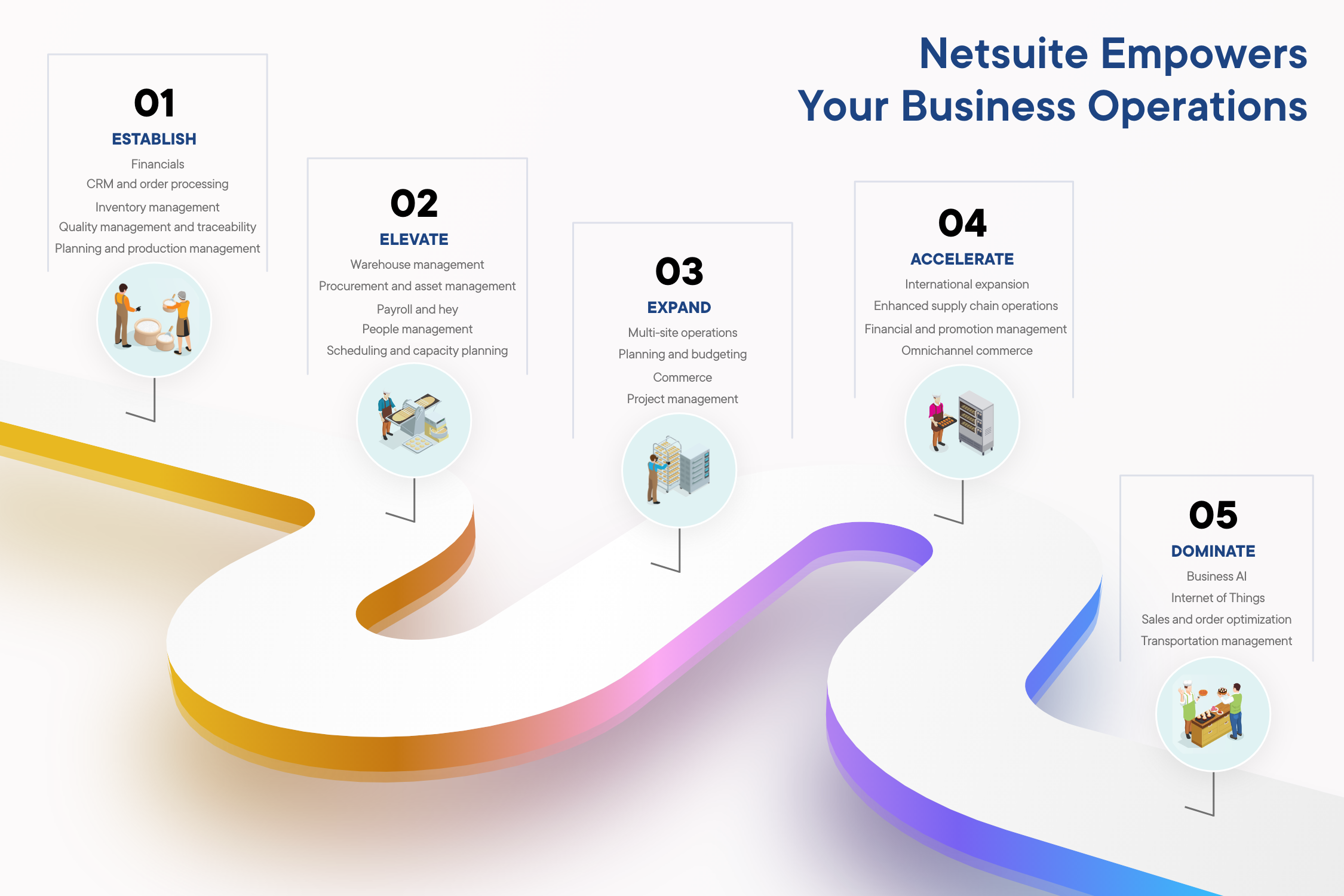 According to most leading brands in the food and beverage industry, the improvements in terms of business conversion, efficiency, and customer satisfaction are the most competitive factors that propel adopting the latest software solutions.
Many industry leaders who have already adopted NetSuite based food and beverage software solutions are of opinion that they have experienced a hike in business conversions and a boost in customer satisfaction through the move.
Since NetSuite based food product development software is not just a tool for managing finance or business process automation but also a comprehensive tool for providing streamlined customer service, it became instantly popular across companies.
The NetSuite based software solutions for the food and beverage industry come with a fixed asset module to take care of everything ranging from payroll management to the manufacturing and warehousing process to finance and customer service.
The Ideal Software For Food and Beverage
The best thing about the NetSuite food and beverage software solution is that it is developed keeping all the specific industry challenges and requirements in mind and it can orchestrate solutions to industry-specific needs. Here below we briefly explain some of the key areas where Netsuite software solutions can play a key role in enhancing efficiency and productivity.

Learn More: How NetSuite Can Help Businesses Run Their Operations Remotely
Let's Drive Growth With Optimized Supply Chain Management
Thanks to the cloud based supply chain management that ensures delivery of products irrespective of their locations, any product from anywhere can be dispatched and delivered to any location as per the demand.
NetSuite with its robust cloud supported supply chain management tool offers this matched control, flexibility, and optimum visibility across multiple suppliers, manufacturers, and vendors in different locations all over the globe. It helps with planning, execution, collaboration and offers required support.
Thanks to such robust supply chain management capacity, you always feel the products to be manufactured in your own facility instead of facing cumbersome experience associated with supplies coming from remote locations.
Dig The Advantage Of Powerful Order Management
Order management in the food and beverage industry works like a power-packed engine to streamline business conversion. When customers want it and you as a food brand have it, you can deliver it to them. That's precisely what order management is all about.
Now faster this order management is done, more orders are fulfilled in less time, and with fewer efforts, more sales and profitability it can ensure for the food brand. This is what advanced food delivery software development or order management powered by NetSuite can help a business to achieve.
Bring Paradigm Shift Of Ease In Financial Management
The financial management solutions offered by NetSuite are now utilized by thousands of companies for smooth and steady management of all their accounting requirements.
With NetSuite financial management tool at your side, a business can easily deal with the streamlined cost and revenue management while getting comprehensive visibility of the financial transactions across channels.
The best thing is, NetSuite based financial management offers an integrated and streamlined solution synced with real-time order management, inventory management, CRM inputs, and eCommerce functions. This allows comprehensive and seamless management of all sources of financial transactions and assets through a single software solution.

Make Customers Happy With Great Customer Support
The customer service management integrated as an inbuilt solution in NetSuite software allows businesses to get a panoramic specter of the customer landscape comprising all the pain points and specific needs.
This comprehensive and integrated support system helps address customer queries and pain points faster while targeting the customers appropriately with timely cost reduction moves and promotional offers.
The customer support system of NetSuite software brings in multiple customer interfaces together such as sales, support, service, and order fulfillment. With real time access to customer data across all these touchpoints, NetSuite solution can help a business with relevant insights for providing far better customer service and support.
Create Global Footprints
Local food and beverage businesses are increasingly going global and the OneWorld solution from NetSuite is well equipped enough to address the needs faced by companies when declining with different cultures and location specific needs around the world.
Most importantly, thanks to NetSuite based solutions a business can enjoy unparalleled visibility of the company's footprint around the world in actual time and accordingly can ensure very consistent business management whether on a local or global level.
How NetSuite Drives Ease In Food Distribution?
We are fortunate that with NetSuite we can run the entire business on a single platform. The company can now do away with the multitude of disparate applications and incorporate and manage the entire data through a comprehensive and highly customizable system.
Moreover, the food distribution process can now stay informed thanks to the data collected at different layers of the process and help easier decision making. NetSuite food distribution software thanks to the round the clock view of the customers across multiple channels, can help better targeting of customers now drive sales more precisely.
VNMT's Future-Ready NetSuite Solutions For Food and Beverage Industry
VNMT over the years has established itself as one of the leading NetSuite development companies with a great track record and expertise in food and beverage industry software development.
With a robust team of NetSuite developers having a proven track record and several successful applications upon the portfolio, VNMT has carved its reputation as a specialized NetSuite service provider for industries across the niches.
Conclusion
The so-called pandemic led uncertainty has actually come as a survival test in the disguise of a disaster. For the first time, the industries selling and manufacturing essential goods, food and beverages have understood the importance of sophisticated software solutions focusing on process automation. The increasing popularity of NetSuite software solutions can be better understood in this context.