A government is a massive organization that coordinates many agencies to generate revenue, assist its citizens and keep the rules and regulations in check. Besides, managing the accounting and procurement process on such a vast ground is very complicated. Accordingly, to ease the work of the Government, NetSuite enters the play.
In addition, NetSuite is an ERP (Enterprise Resource Planning) software that processes vital business functions in a user-friendly and integrated platform, such as accounting, procurement, finance, etc. Equally, the Government can be benefitted from NetSuite as it ensures simplified navigation of the entire complex system and provides the result whenever it is asked to with cent percent precision.
Benefits of NetSuite for Government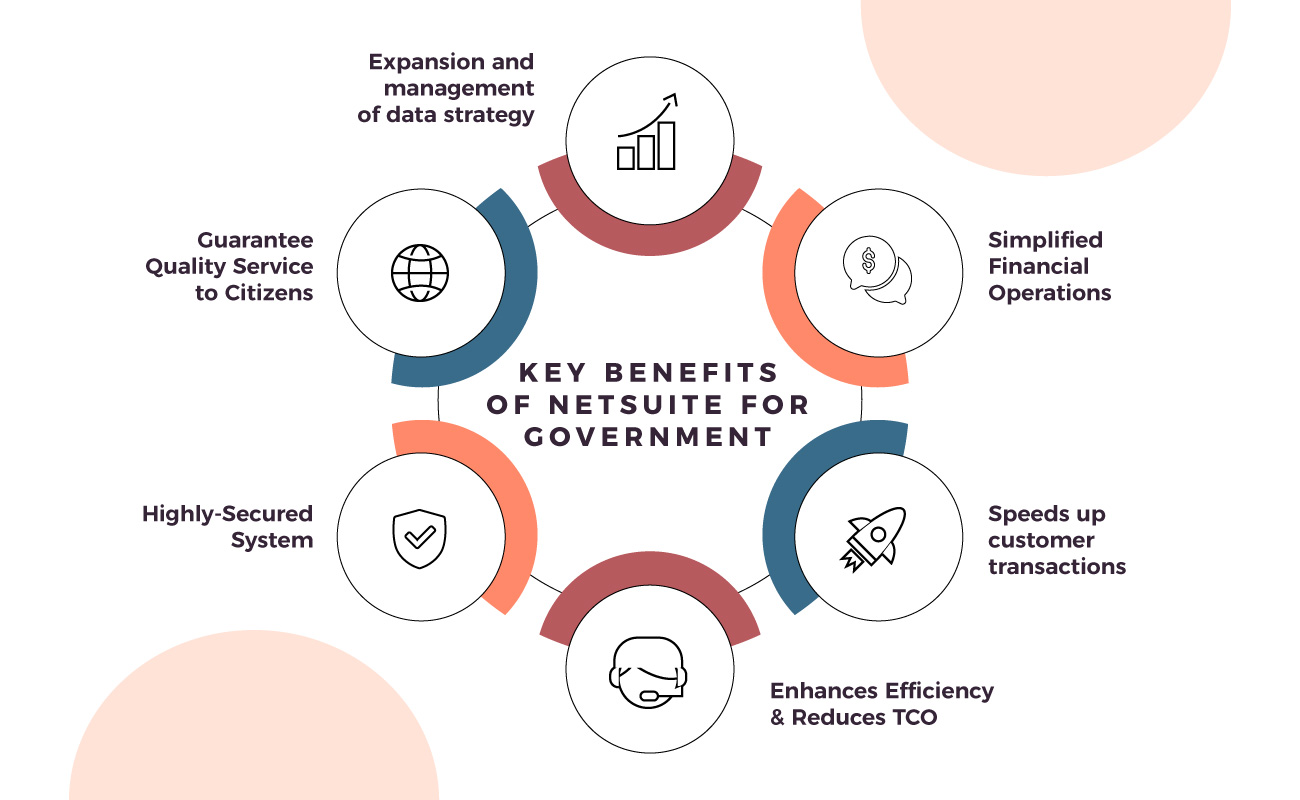 1. Simplified Financial Operations
NetSuite implementation and its developed tools for managing financial functions such as accounting and other government-based finance operations. In addition, it ensures that all the statements produced to fulfill the GASB criterion.
Furthermore, you don't require managing payables, receivables, revenue management, etc. to be done manually. Every simple or even complex financial operation is automated
2. Speeds up customer transactions
VNMT solutions significantly benefit the government by speeding up consumer transactions with local government accounting software. They do so by allowing employees to focus on more complex tasks. Additionally, they don't have to wait for manual approval or contact their supervisors for assistance.
On top of that, it automates tedious and time-consuming tasks so that people have a seamless journey through the NetSuite system. Furthermore, this can result in increased order volumes, better customer relations, and improved financial performance.
3. Enhances Efficiency & Reduces TCO
The cloud computing system of NetSuite for the public sector helps in reducing TCO (Total Cost of Ownership). It, thus, helps in easing the shoulders of the government from the burdens of expensive ERP software.
Also, it provides a comprehensive and user-friendly platform to work on, which enhances work efficiency. That's also how the NetSuite for government i.e. an ERP solution that is cloud-based helps with increasing business efficiency.
4. Highly-Secured System
NetSuite understands how the government's data always remains at risk. This is why they make sure their entire system is secured with the use of password requirements that are high level.
They also provide highly guaranteed data privacy with 256-bit encryption so no third party can sneak and peek. Another great NetSuite feature is RBAC, which is basically role-based access control that ensures high security.
5. Guarantee Quality Service to Citizens
The streamlined outlook of the account section helps the government by giving an overview of how to deliver better. This way they deliver more efficient service to the citizens.
Else, the CRM service allows the citizens to reach out with their problems to the government, asking them to resolve them. NetSuite does this with the UI performance that is optimized to edit or view or save records.
6. Expansion and management of data strategy
NetSuite, which is one of the best government ERP systems, can help the government expand and manage its data, whether it's capturing the public's contact data, managing back-end systems, or creating insights around their usage.
Forbye, VNMT can help the government with NetSuite to resolve complex issues with comprehensive domain knowledge in natural language processing.
NetSuite For Specific Government Functions

Government functions involve many applications and systems, which are all integrally connected together. Many software modules must work together to fulfill the government's task.
Further, the goal of NetSuite consultants is to make it possible for governments to manage all their functions within one system. This makes it easier for them to have a centralized view of all the data and systems they use.
1. NetSuite Accounting
Their other modules, such as NetSuite Accounting, help the government to get an overview of revenues and spending. Thus, enabling them to plan better for the development and growth of their infrastructure.
2. eDocuments Module
One crucial module in this system is the eDocuments module. This module allows government agencies to create and share documents with other departments easily. Documents can be stored in the cloud or on internal servers so that everyone involved can access them no matter where they are.
Also, this eliminates the need for multiple copies of the same document, saving time and money. NetSuite CRM helps the government get in touch with its citizens and understand their demands and what is going wrong in their administration.
3. Analytics Tools
In addition, the NetSuite implementation consultant with their platform offers federal agencies several analytics tools. These include contact management, ordering processes, and resource management. These tools allow agencies to monitor their resources more effectively and make better decisions based on data analysis.
Case Study
There have been many examples where NetSuite has proved to be instrumental. Let's look into an example of how NetSuite has made an enormous difference to the government and brought changes.
San Jose:
BACKGROUND:
The resolution was agreed upon in the year 2016. They were looking for how to resolve citizens' everyday problems and route them toward the vision of a Smart city.
ACTION TAKEN:
By the end of 2016, the Mayor's office of San Jose decided to implement the Oracle Service Cloud, thus bringing many features to take a step toward their vision. San Jose had a critical issue of no 311 Citizen Service Requests (fulfilled by the NetSuite CRM solution).
This provided the citizens with a path to connect to the city's administration and let them know of all needs of the citizens.
OUTCOME:
Not only was it a service failure reporting app, but it was a smart CRM application. It also had a feature of uploading the image and the location enabled by GPS so that administration could easily reach the location and resolve the issue.
How Can VNMT Help?
VNMT, a NetSuite Alliance Partner, is a patented revolutionary technology that can improve customer experience and increase efficiency across unique business transactions of the government. Using this breakthrough technology, NetSuite simplifies the customer experience by creating invoices, managing payments, and tracking orders.
By understanding a company's customer base and behavior, VNMT can improve the accuracy of customer support responses. This is especially relevant for large public companies, as they can save time and resources in resolving customer inquiries.
Conclusion

Government departments, agencies, and contractors use NetSuite to manage their data, compliance requirements, etc. They further manage the execution of public-facing functions. Also, this deep knowledge of the needs of these organizations has helped us develop tailored solutions that meet their specific needs. It's providing government agencies with a comprehensive platform to manage all aspects of their business.
It is critical for running a firm efficiently and ensuring compliance. NetSuite provides powerful tools that allow governments to easily track administrative tasks, connect with constituents, manage budgets, and more. Also, by automating processes, NetSuite ensures that government agencies are running more effectively and efficiently. It's helping them meet today's regulatory environment's demands.