Summary: Here in this post we are going to provide a complete guide to NetSuite OpenAir PSA covering the following aspects:
NetSuite OpenAir uses
NetSuite OpenAir features
NetSuite OpenAir benefits
NetSuite OpenAir cost
NetSuite OpenAir key value propositions
Service-based businesses from all over the world are now leaning towards automation suites to do more, serve more and gain more. Professional Services Automation (PSA) already opened up Pandora's box full of growth opportunities. NetSuite OpenAir PSA solution came as the most complete, comprehensive and powerful automation suite for service sector brands.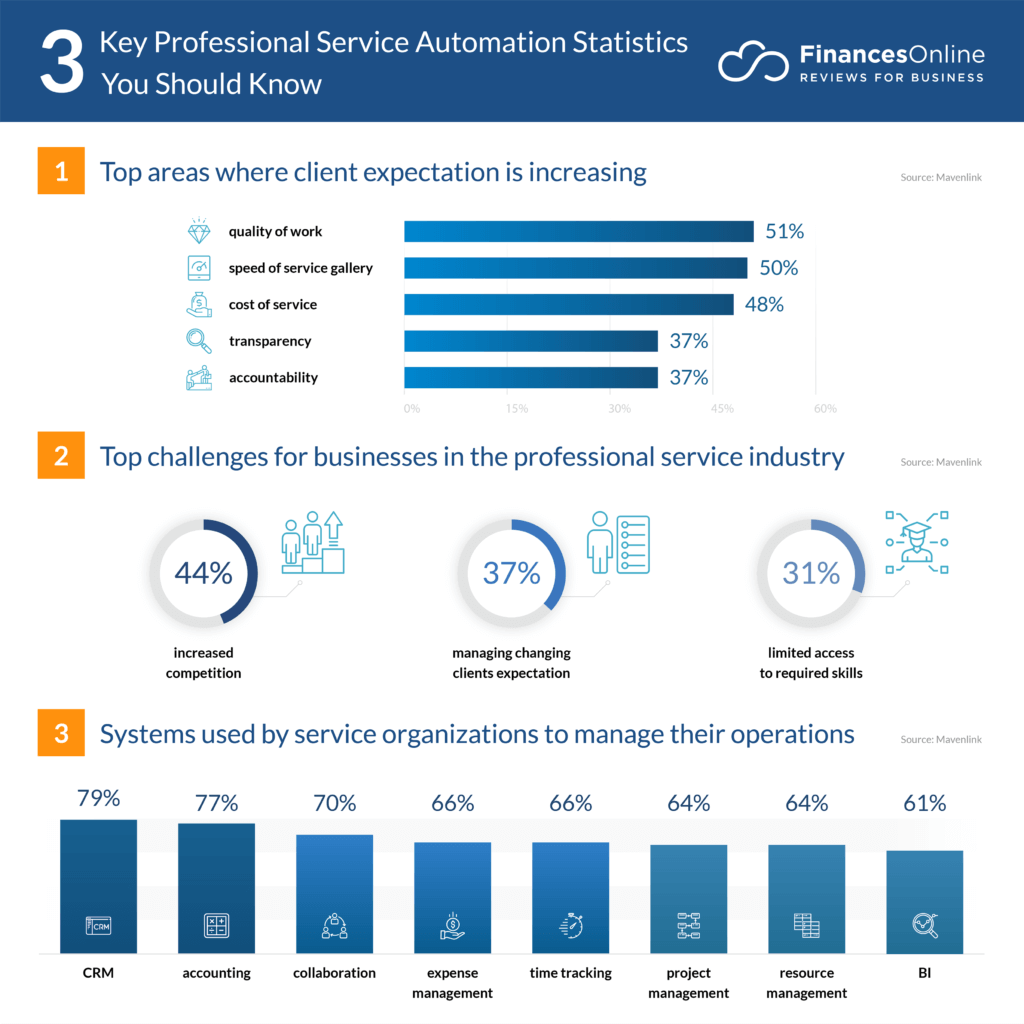 NetSuite automation through a customizable ERP suite is already popular among businesses. But OpenAir further extends these capabilities with a sophisticated and rich toolset that can be configured as per the customer-focused service needs. While thousands of companies across every niche use NetSuite OpenAir, every one of them finds it uniquely adjusted to their business needs. This happens because of the flexible configuration allowed by OpenAir. 
Thanks to NetSuite OpenAir integration, businesses no longer need to depend on expensive custom code or struggle to string together different parts of a system for the desired output. Instead of feeling locked in with a stagnant software system, NetSuite OpenAir allows you to try different configurations and variations to streamline your services and processes.
Here throughout this small blog post, we are going to shed light on different aspects of this popular PSA suite. From explaining what is NetSuite OpenAir to its key modules, features, benefits, cost and some helpful answers to common queries, we will explain it all.  
What is NetSuite OpenAir?
NetSuite OpenAir is a Professional Services Automation (PSA) suite that is widely considered to be the best-in-class toolset. This PSA software system has been designed keeping in mind the requirements of professional services organizations across all sizes and niches. The best thing is NetSuite OpenAir PSA allows integrating with any leading enterprise resource planning (ERP) solution.
NetSuite OpenAir helps with separate modules such as project management, resource optimization, project accounting, time management, expense management, billing and invoicing, revenue recognition, etc. it ensures end-to-end automation and comprehensive data visibility across the systems and processes.
Leading NetSuite implementation services can further help you to get the most out of this robust automation suite. NetSuite OpenAir PSA helps companies to draw real-time data-driven insights, enhance profitability from projects, optimise utilization of resources and make timely, data-driven business decisions to propel growth.
Some of the key ways NetSuite OpenAir PSA measurably transforms business operations include the following.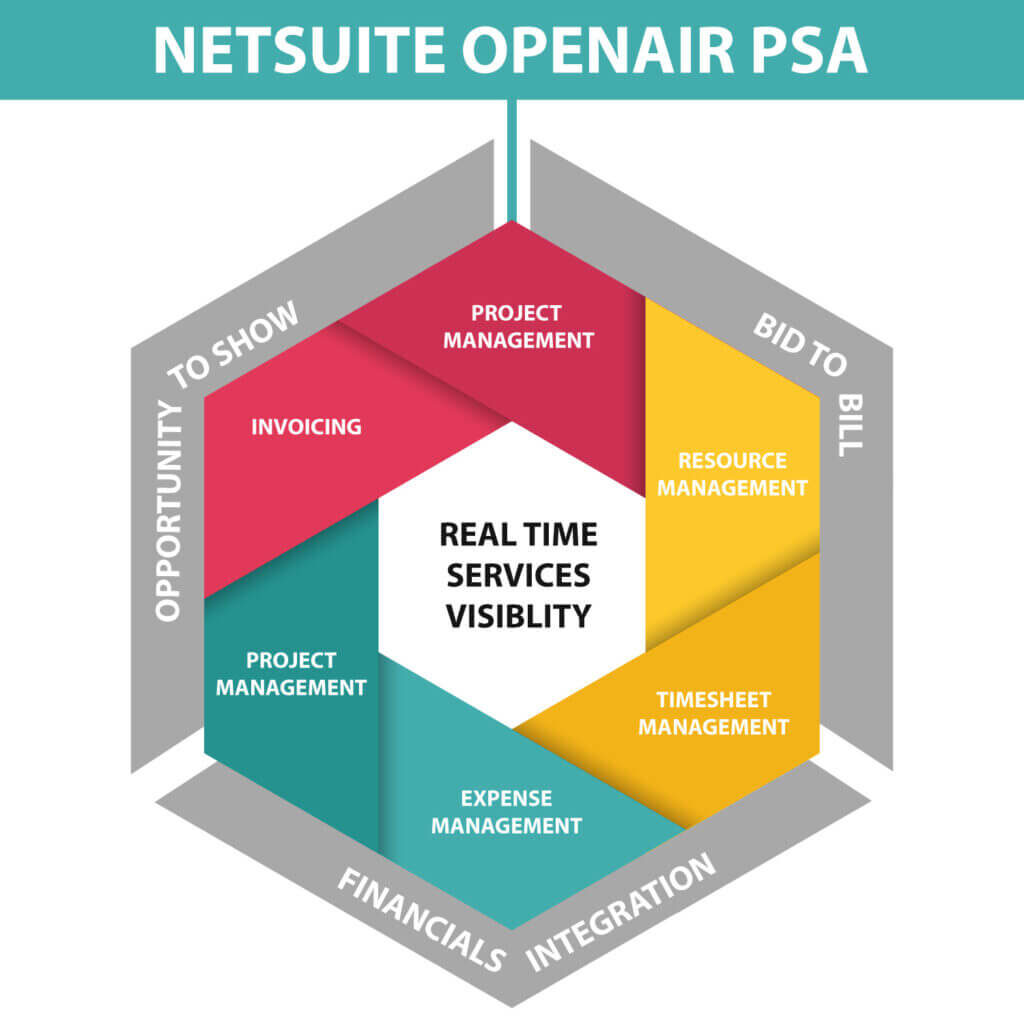 Optimising resource utilization, return from projects and ensuring timely project delivery and at the same time reducing IT costs, pulling down project accounting needs and corresponding overhead cost, and streamlining the cycles of billing and invoices.
Enhancing precision and accuracy of invoices and billing, automating revenue recognition and boosting data visibility for any service-sector company.
Ensuring anytime, anywhere access through the cloud and providing support to the users anywhere anytime based on their location or the go or at the sites of clients.
What problems does Oracle NetSuite OpenAir solve?
NetSuite OpenAir comes equipped with a wide range of applications and tools that are designed to cater to every step of the life cycle of professional services. It comes as a Software-as-a-Service toolset and provides a user-friendly NetSuite OpenAir integration manager and dashboard. Among the cluster of applications for service sector companies, it offers apps to manage timesheets, projects, resources and expenses.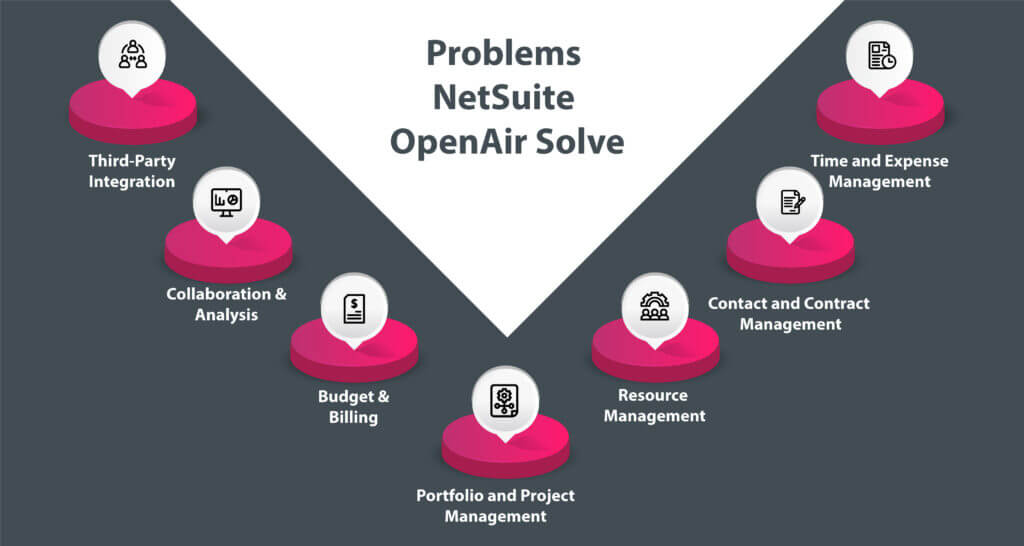 The PSA toolset also comes loaded with value-added applications required for billing, invoicing, accounting and data analytics. The best thing is NetSuite OpenAir is fully optimized to operate through mobile devices. The users can also access it through browsers by using NetSuite OpenAir Connect and they can access the backend systems of the company with the web-based platform.
NetSuite OpenAir became quickly popular as a PSA solution among professional services firms across all verticals and niches. But as of now, it has mostly benefited the large-scale and global brands most. Leading NetSuite consultants always suggest small organisations with less than 500 employees use NetSuite SRP (Services Resource Planning) which is more suitable for small-scale operations.
Globally NetSuite OpenAir and other PSA solutions from NetSuite are being used by more than 1,500 companies that offer different types of professional services to customers. Among all these NetSuite PSA offerings, OpenAir stands taller because of the hundreds of features covering almost every aspect and ensuring ultimate flexibility of configuration.
Let's explain the NetSuite OpenAir modules to understand how it solves different types of business problems with ease.
Portfolio and Project Management
NetSuite OpenAir project management is the most popular and impressive module providing a competitive edge to the platform. In comparison to other similar SaaS platforms in the market, it supports the largest range of portfolio and project management features.
Again, with this module also NetSuite OpenAir enjoys a competitive edge as it covers the bulk of the characteristics and features needed for resource planning and resource scheduling. Almost all the features and characteristics central to resource management and planning are covered by this NetSuite OpenAir module.
Contact and Contract Management
NetSuite OpenAir also offers extensive support for most of the features of Opportunity, Contact, and Contract Management. In comparison to other Professional Services Automation systems in the competition, NetSuite OpenAir has a considerable edge.
Time and Expense Management
When it comes to time and expense management in the service sector, NetSuite OpenAir provides great support covering 98% of key Time and Expense Management features. This module offers a lot of customisable controls to help service sector companies manage both time and expenses more efficiently.
This is another successful module from NetSuite OpenAir and this module provides support for the vast majority of features and functionalities. It offers real-time billing and cost estimation functionalities. It also provides both long term and short term budgeting features and functionalities.
In the whole service sector managing knowledge and data-driven insights to deal with the evolving competition is extremely important. This is another area where managing knowledge and data-driven insights in a streamlined manner and sharing real-time data analytics can be a little consuming. NetSuite OpenAir provides pretty robust support for the maximum features required by this module.
One of the major reasons behind the increasing popularity of NetSuite OpenAir is arguably this module. Ease of Third Party tools Integration is a key attribute that NetSuite OpenAir extensively covers. From custom configuration to custom integration of third-party tools, this module facilitates everything.
NetSuite OpenAir Professional Services Automation Features
NetSuite OpenAir comes with a load of valuable features facilitating smooth automation of professional services. Here below we mention all the NetSuite OpenAir features.
Pre-Packaged integration of third-party software
Report for labour costs
Access through the mobile app
Import and export of data
API for security enhancement
Sales Collaboration
Data Analytics Dashboard
Skill-based Profile Management
Expense Management
Timesheet management
Reporting and Dashboards
Multi-Company synchronisation
Revenue Recognition
Resource Management
Project management
Customer Billing and Invoicing
Let's now discuss three crucial features of NetSuite OpenAir that can boost the efficiency of professional service automation to a great extent. These three crucial features are timesheet management, resource management and integration with third-party systems.
Easier Timesheet Management
NetSuite OpenAir streamlines the timesheet management by allowing the creation and approvals of timesheets from anywhere anytime. NetSuite timesheet management can be done easily through a web browser. Moreover, NetSuite OpenAir mobile app further allows developers to carry out many tasks even at times when they travel from one place to another.
They can access timesheets irrespective of the devices they use and irrespective of their locations. The project status can be viewed and updated anytime. This flexible and easy accessibility allows tracking times across different projects, tasks and phases on the go besides helping them to make comments and create descriptions quickly.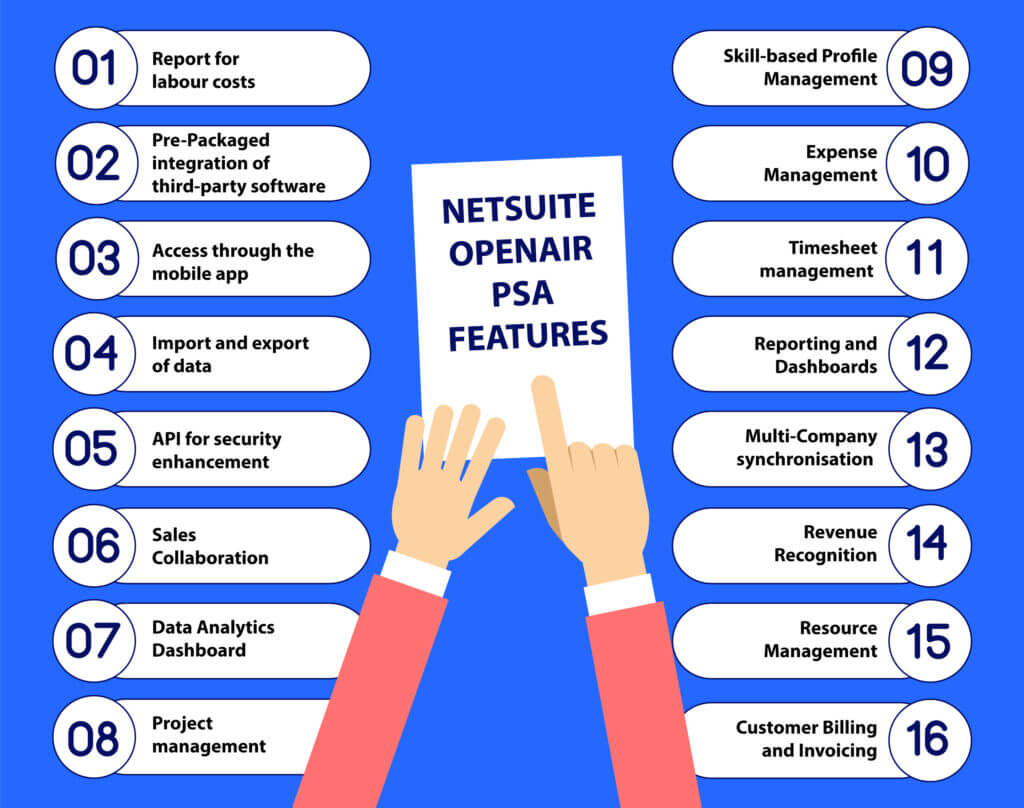 Streamlined Resource Management
NetSuite OpenAir comes as the best platform to help easier resource management. OpenAir comes with powerful and advanced features and functionalities to automate global resource management efficiently. Thanks to this right resources can be allocated to all the projects where and when they are needed.
The Resource Management system of NetSuite OpenAir helps you to track and allocate business resources through several different booking times and each of them can be separately defined with attributes for enhanced and detailed visibility. This ultimately helps in forecasting resource requirements in advance and accordingly assigning resources in time. Moreover, the detailed resource reporting tool allows the creation of visually appealing, graphic and interactive reports.
Smooth Integration with Different Third-Party Systems
NetSuite OpenAir can also be integrated with the prevalent front-office and back-office systems to ensure a seamless and streamlined process. This helps you to reap all the benefits of the cloud-based operation while you can continue the existing systems and already established business processes.
On the other hand, this smooth and seamless integration also helps in reducing the manual workload of the team so that the same amount of tasks can be completed more rapidly, accurately and with lesser consumption of resources. Ultimately, with such flexible integration, you get the benefits of both cloud-based automation and your existing and familiar systems.
NetSuite OpenAir Key Benefits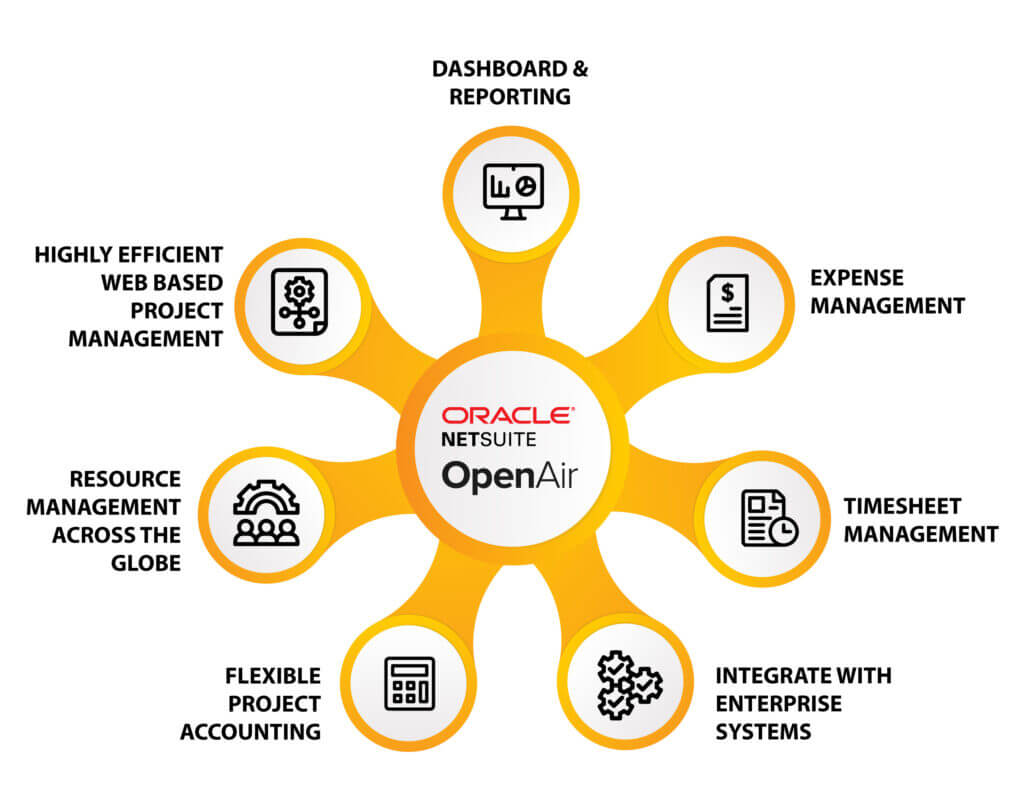 Now that we have explained the key features of NetSuite OpenAir and all the positive attributes it offers, it is time to have a closer look at some of the key advantages it provides to business users.
NetSuite OpenAir comes with its own free mobile app version that can be accessed through both Android and iOS devices. This ensures flexible, device-independent and location-independent access to timesheets.
NetSuite OpenAir provides an array of ready to use user roles, dashboards, metrics and reports as per the implementation needs. There are nearly a hundred pre-configured and ready to use reports. OpenAir also provides a multitude of templates so that new projects can be created with ease as per different billing rules.
As far as controlling and allowing access to different features and tasks are concerned, the role management of NetSuite OpenAir comes in handy. It provides a robust platform focused on user roles and the level of information required by each individual.
NetSuite OpenAir makes tracking task completion by each employee easier through a powerful dashboard feature. Each employee role has a pre-built dashboard loaded with charts and reports specific to their tasks and responsibilities in the company.
NetSuite OpenAir Cost
First of all, let us mention here that NetSuite OpenAir doesn't provide any trial version. This SaaS software platform comes with two different pricing plans such as Professional Suite for Small and Medium Business (SMB) segment and Enterprise Suite. The latter also offers a Resource Management module.
The Professional Suite for SMBs comes with a price tag of $399/month and an additional $49 per user per month. The Enterprise Suite that comes loaded with Resource Management is priced at $899 per month and an additional $49 per user per month.
Why is NetSuite OpenAir better?
NetSuite OpenAir for the entire service sector brings a lot of promises for streamlined operation with great flexibility, cost control and efficiency. For a company whose core business is running service-based projects, tracking the progress of the project, resource utilisation and revenue generation become very important. Not a single software solution in the market today provides all three of these simultaneously. This is the most competitive value proposition offered by NetSuite OpenAir.
Since modern service-based organisations have their workforce scattered across locations, roles and workplaces including the client-side workstations, it has become very much important for organisations to track projects and update all activities flexibly. On top of everything, OpenAir is powered by the widely acclaimed and one of the leading ERP systems in the world called Oracle NetSuite.
NetSuite OpenAir PSA offers a complete and fully loaded software automation system with powerful and robust capabilities. If you run a business of software-based service projects, this NetSuite PSA offering will give you complete peace of mind regarding operational control and process optimisation.
VNMT offers implementation & optimization for OpenAir & support
VNMT, as one of the leading NetSuite alliance partners, offers expert consultancy and optimization support for NetSuite OpenAir PSA. With years of NetSuite ERP customisation, development and implementation experience, the NetSuite professionals at VNMT will help you deploy OpenAir in a way that benefits your business operations. 
With every consultancy and implementation project, VNMT keeps its focus on meeting organisational constraints and market opportunities to the fullest. For implementing any of the NetSuite SaaS products and modules we analyse your business operation first to tailor-fit a solution that your business can be benefited from.