The largest annual meeting of Oracle NetSuite customers and partners, NetSuite SuiteWorld, is always a terrific way for the industry to come together. It allows the participants to explore, connect, and be impressed by what is feasible with the NetSuite platform.
This year's event was no exception, with more than 7,000 participants from several nations who came together for four days of education and celebration. It offered partners and customers utilize NetSuite to grow their businesses.
But What Does SuiteWorld Have To Offer You As A Takeaway?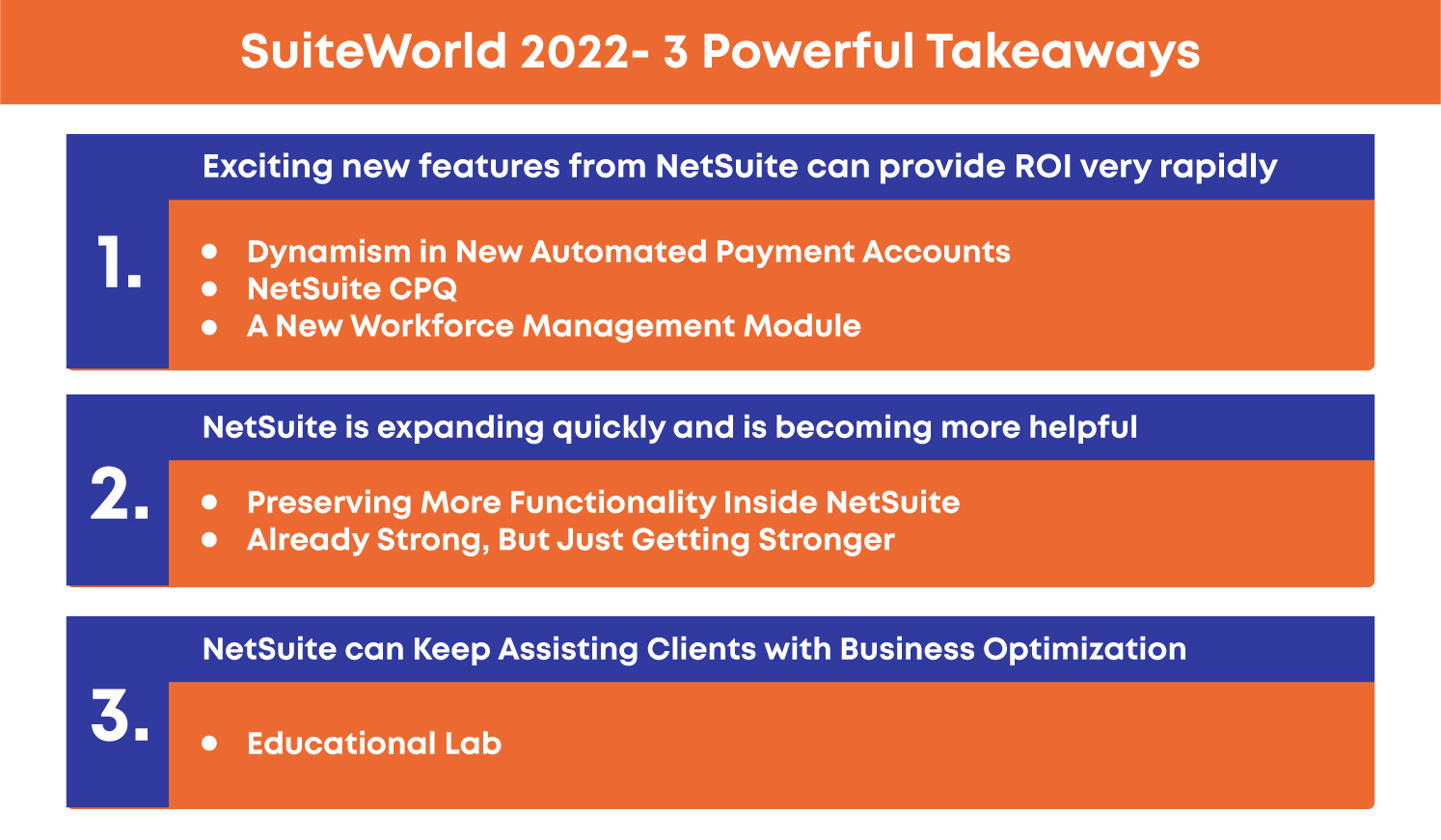 Let's say you need to become familiar with the terms NetSuite or SuiteWorld. In such circumstances, Oracle developed ERP software that controls every aspect of your business. A NetSuite eCommerce platform called SuiteCommerce aids businesses in creating and running their online storefronts. It gives merchants the tools to build and configure their storefronts, handle sales, control inventory, and transport goods to customers. Retailers may also use NetSuite's potent marketing and merchandising tools through SuiteCommerce.
Now let's get to the critical part- the most powerful takeaways from NetSuite SuiteWorld 2022!
1. Exciting New Features From NetSuite Can Provide ROI Very Rapidly
With several new features, NetSuite is sweetening the deal for its clients. The following are the three outcomes for the participants:
Dynamism in New Automated Payment Accounts
By improving the effectiveness of invoicing, this solution has the potential to save the company time and money. No manual data entry is required since the automation system analyzes vendor invoices using optical character recognition (OCR). It scans them to extract details from invoices. This feature has never been available in NetSuite before. Instead, to transfer payments to suppliers, clients have always needed to set up an interface with a different party. It is now a component of NetSuite.
Teams may configure, price, and quote (CPQ) items with this new add-on. This indicates that sales representatives or website users can customize a quotation or sales order. It is similar to being able to personalize a car on a website. However, this time, the orders are for business-to-business sales. This improves productivity and helps cut down on mistakes.
A New Workforce Management Module
This recently released module can assist with employee empowerment and hiring. The module can control capacity and features a time clock. Retail establishments and warehouses may now make the most of their present staff members' time by having them reliably and regularly clock in and out.
2. NetSuite Is Expanding Quickly And Is Becoming More Helpful
That is a substantial gain over the previous year, suggesting two things: NetSuite is expanding swiftly. Second, ERP software is increasingly using it as the industry standard. SuiteWorld 2022's theme, "Full Suite Ahead," perfectly encapsulates this notion.
Preserving More Functionality Inside NetSuite
Instead of depending on other sources, users can accomplish more with NetSuite SuiteWorld 2022 than before. For instance, clients may avoid utilizing other software or manually input invoices using NetSuite's new accounts payable automation service. Additionally, NetSuite recently enhanced its capability for bank reconciliation and fees. Even its database and analytics technologies have received funding.
These initiatives demonstrate NetSuite's intention to displace commonly integrated external systems. The aim? Minimalism. Ask your NetSuite advisors how NetSuite can serve you better, and keep an eye out for that improved functionality.
Already Strong, But Just Getting Stronger
By making infrastructure investments utilizing the Oracle software architecture and the NetSuite Analytics Warehouse, a business intelligence tool - NetSuite has maintained its position as a market leader. This application enables robust reporting right out of the box utilizing information from NetSuite and other sources.
3. NetSuite Can Keep Assisting Clients With Business Optimization
No matter where you are on your journey, we will be able to help you. The following are some of the main areas of assistance you have on your side:
The Learning Cloud Support (LCS) resource from NetSuite is a cloud platform that enables your team members to educate themselves on how to utilize NetSuite more effectively. NetSuite users can benefit from various quick and efficient "how to" training courses the LCS system offers. The LCS method aids NetSuite users in better comprehending the enormous power and potential of the program.
Conclusion

The majority of us are concerned about how the world is evolving. The dynamic nature of internet commerce necessitates that we become nimbler and more familiar with the technologies that will influence the way we do business and the nature of commerce itself. Since SuiteWorld Conference 2022 is on the cusp of this transformation, its annual user conference is a great place to learn about the most recent changes to the NetSuite software.
VNMT can assist you with optimizing your NetSuite systems no matter where you are in your NetSuite journey. We can help you examine practical new features, establish new alliances, and resolve any challenges that may arise inside your company. We also provide NetSuite maintenance and technical support, as well as health tests.