Every business wants to stay updated with the evolving market demands and the most relevant market trends. Since the customer expectations are continuously changing creating new opportunities and challenges for the businesses of all niches, brands now struggle to stay updated with these fast paced changes that continue to influence business processes.
In this respect, it is also important that falling out of the major market trends and expectations can actually make a business completely outdated and out of tune. To stay competitive and to take on the evolving growth opportunities a business, first of all, needs to stay at its toe in respect of embracing change and new trends that continue to appear every once in a while.
No wonder that the earlier legacy enterprise software systems are now considered obsolete and outdated just because businesses now need a more comprehensive NetSuite accounting software and ERP solution keeping track of multiple data facets and offering a complete 360 degree view of the business data through detailed analytics. Modern enterprise systems cannot just stay aloof to the needs of a robust and all round solution instead of so-called legacy software systems.
By implementing the Oracle NetSuite software one can be completely freed from the monotonous manual work processes that are often redundant and tremendously time consuming. On the other hand, NetSuite implementation will give a business highly centralized control over multiple processes and facets of data driven operations.
But in spite of these advantages offered by NetSuite cloud software implementation in businesses, it can also terribly go wrong if certain loopholes and ditches are not taken into consideration well in advance. In which ways, NetSuite implementation can really go wrong and come with faulty outcomes? Well, here through the rest of the post we are going to explain the key mistakes that happen with NetSuite implementation most of the time.
Selection Of Wrong NetSuite Implementation Partner To Onboard
NetSuite ERP implementation can really be lucrative considering the huge performance boost the software promises and the kind of outcomes experienced by many enterprises across the niches. But if you take the word of the NetSuite experts seriously, most of the time the superb implementation of the software is actually the result of thorough customization by the NetSuite partner company.
Whether you are running a business or you belong to the top management of the company, you should be aware of the outcome and the factors involved in choosing the right implementation partner for incorporating NetSuite in the IT scheme of a company. It is well known that NetSuite implementation typically depends on the specific business requirements and the nature of your business and this is where an experienced NetSuite implementation partner can really play an important role.
Instead of embracing an one-size-fits-all approach, you should go for a highly business specific approach in respect of implanting the NetSuite software in the scheme of things that fit your company. Always go for a NetSuite implementation company having prior experience and exposure in your industry niche and have already served similar business brands.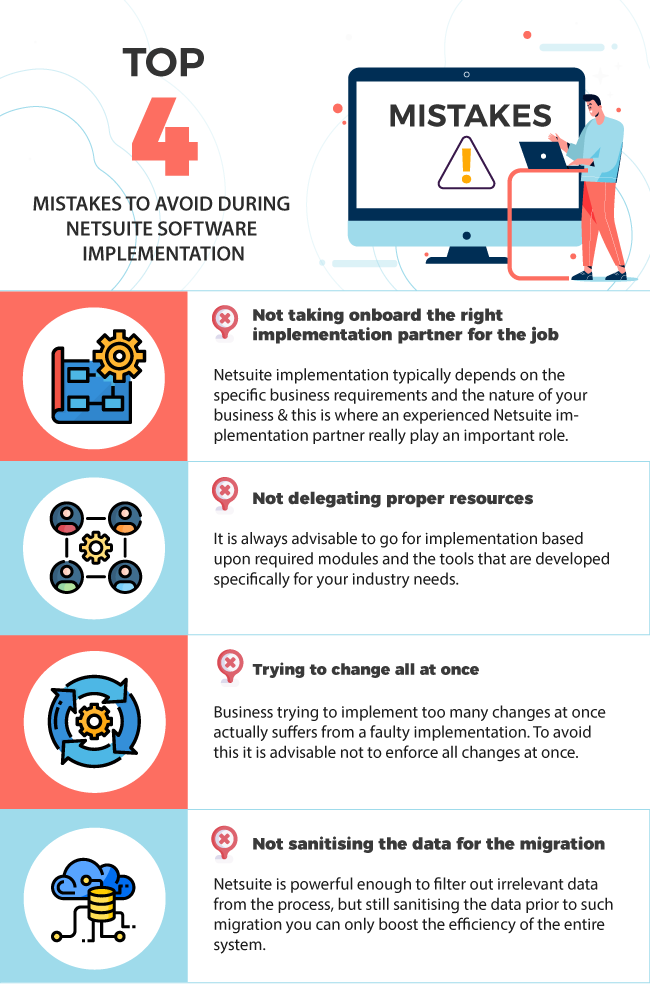 Not Delegating Proper Resources
NetSuite ERP software comes as an advanced solution that always involves several key considerations and a thorough knowledge of the industry niche for successful implementation. This is why your internal IT team may not prove to be efficient enough to carry out the entire implementation task.
On the other hand, instead of building the NetSuite ERP accounting software from scratch, it is always advisable to go for implementation based upon required modules and the tools that are developed specifically for your industry needs. This is why it is always appropriate to hire NetSuite partners having prior experience in your industry and have enough exposure to your industry needs.
Now when you need to get the job done by hiring a third party service provider instead of getting it done through your internal IT team, it involves considerable investment and several IT resources demanded a third-party involvement in the project. In case you fail to provide the required resources for the project, the outcome can really go wrong.
Trying To Change All At Once
It is one thing to incorporate changes by embracing the NetSuite implementation and it is another thing to avoid implementation failure by just sticking to a tested and tried path. Well, it has already been seen that any business trying to implement too many changes at once actually suffers from a faulty implementation. To avoid this it is advisable not to enforce all changes at once.
It is likely that your enterprise already depends heavily on legacy software systems. Just by drastically scraping these software overnight you can only end up creating serious disruptions in the business process. Instead of doing this, it is advisable to switch to the respective NetSuite tool from the earlier legacy software just at a slower pace and at times some of these legacy software tools can also be integrated with NetSuite. For example, already SalesForce CRM software used by many companies is integrated with the NetSuite software system.
Not Sanitizing The Data For The Migration
In a business scenario, all the data are not equally useful and all of these data used and dealt with by businesses do not require migration. NetSuite is powerful enough to filter out irrelevant data from the process, but still sanitizing the data prior to such migration can only boost the efficiency of the entire system.
This is why detecting the data that needs to be migrated to the new system is very essential. If you still did not optimize the previous data fields to filter out the irrelevant data from the migration process, you are actually going to undermine the performance of the system. Since NetSuite allows faster decision making based on data inputs, sanitizing the data for such migration is extremely important.
Read Our Case Study: Data Migration

Conclusion
All the key mistakes in implementing the NetSuite software that we mentioned so far, explain the ways previously such implementation went wrong for many businesses. When implementing NetSuite you are actually going to give a complete facelift to the business performance and these mistakes should not hinder your chances to achieve higher output.