NetSuite has been around for twenty years, and over the time, it has managed to become one of the largest and fastest growing cloud accounting and ERP platforms. No doubt, NetSuite is a popular name in the field of business management software. Businesses worldwide use NetSuite products as they are easily customizable and benefit the organizations in numerous ways.
As per the official website of NetSuite, a large number of organizations use their software modules for global business management. However, there is hardly any doubt that Enterprise Resource Planning (ERP) software remains one of their key USPs.
And if you are looking forward to harnessing the capabilities of NetSuite, you should do so with the help of NetSuite Implementation services. It is a commonly observed fact that implementation of ERPs along with digital transformations are usually full of myths.
So with these in mind, let's take a clear look at some of the common ERP myths associated with NetSuite. And as they are mere myths, it is important to debunk them properly so that you can continue flourishing your business in the right direction.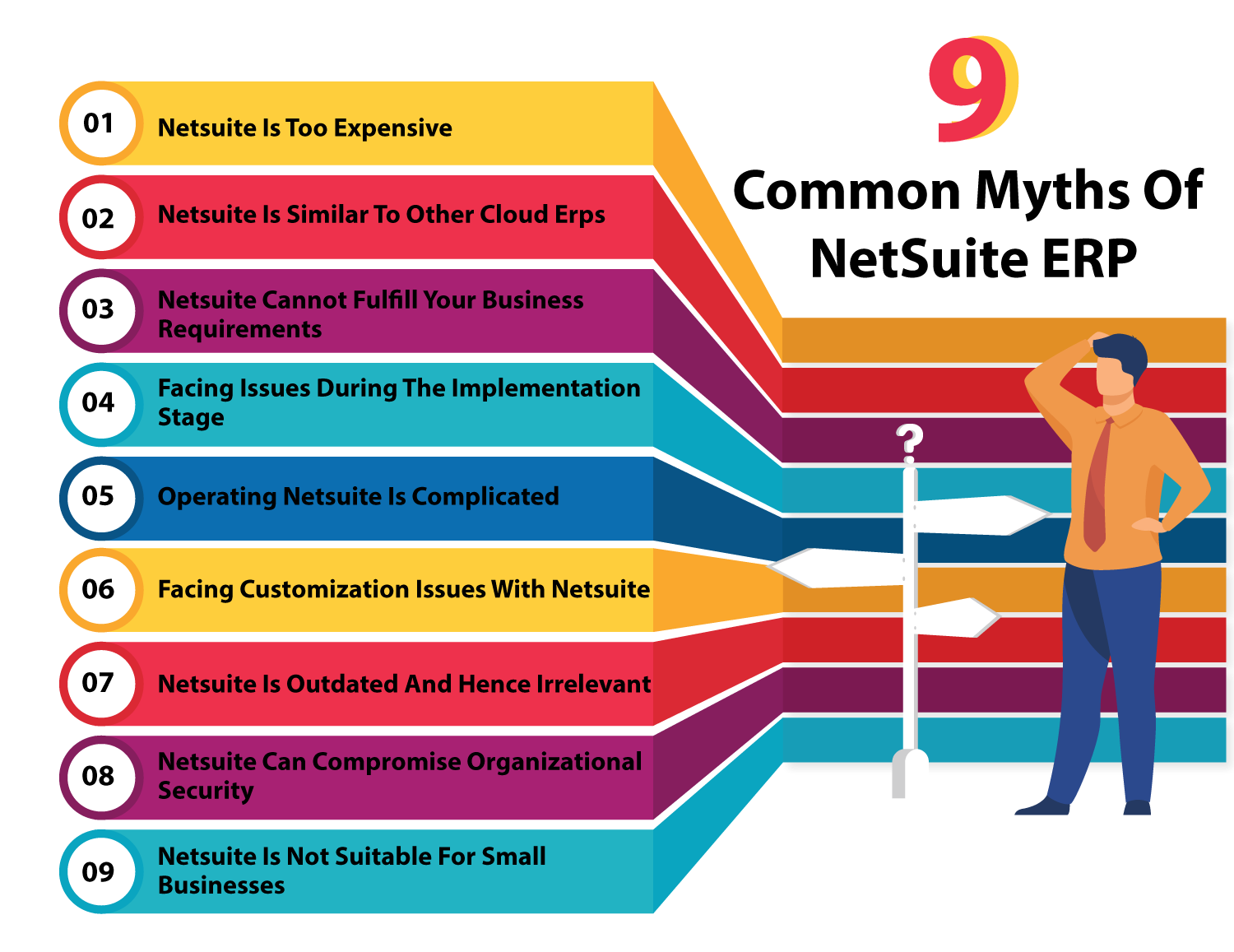 NetSuite Is Too Expensive
One of the most common myths about NetSuite is its affordability. NetSuite is too expensive is a common perception among many small and medium-scale businesses. Many organizations out there wrongly assume that ERP systems are extremely expensive and can be detrimental to the overall finances of the company.
On the other hand, it is common for many small and medium-scale business owners to think of NetSuite as an ERP platform which is ideal only for MNCs. But this is entirely false as NetSuite products are usually available at varied price points.
In other words, an organization, irrespective of its size, can deploy NetSuite and access only those features and modules which have relevance for it. In simple words, even if you are a small and medium-scale company, you can always deploy NetSuite to streamline your business processes.
Read More : A Comprehensive Guide To NetSuite Pricing 2023
NetSuite Is Similar To Other Cloud ERPs
One of the key highlights of NetSuite is that it can cater to the needs of all businesses. You can think of NetSuite as an ERP platform which can accomplish various things at once. There is no denying the fact that when NetSuite first came into the scene, it was quite popular to automate the finance department in organizations.
However, in the later years, NetSuite has evolved as an all-in-one business management tool which can handle a plethora of business operations. Negotiating with NetSuite's implementation partner is the way forward to deploy it in your organization.
Operating NetSuite Is Complicated
A large number of CEOs believe that operating NetSuite mid-market edition is way too complicated and consumes a lot of resources. They are also of the view that cloud-based applications like NetSuite make it complex for users to access apps and execute business processes. But in reality, operating NetSuite is way too simple.
NetSuite allows you to access its platform anytime and anywhere. And when the context is about infrastructure, there is hardly any complexity you would ever face. Quite impressively, you just need online connectivity and a device to operate NetSuite. So it is clear that operating NetSuite is not a complicated process.
Read More : Why Mid-market Companies Are Upgrading To NetSuite
Facing Customization Issues With NetSuite
You would come across various company heads and professionals who believe that NetSuite and its features cannot be customized. There is no denying the fact that some ERP platforms are indeed difficult to customize. But NetSuite is an exception here. Apart from considering NetSuite pricing, you should also be aware of the customizations.
With the help of NetSuite, you can deploy various types of customizations and integrate third-party applications easily. What's more impressive is the fact that NetSuite offers you with a lot of flexibility. So even when you are expanding your business operations, deploying NetSuite will never be a big issue.

NetSuite Can Compromise Organizational Security
In case you don't know, all cloud-based ERPs provide you with a higher level of security than other solutions. NetSuite competitors would always try to attract you with great offers and functionalities. But it would be a grave mistake if you switch from NetSuite to its competitor's solution.
When the context is about NetSuite and its security, you should always stay stress-free. This is because their data centers are certified by the highest level of security protocols which includes SOC1 Type 2 along with PCI DSS.
Apart from these standard security specifications, NetSuite also implements various types of in-house security measures. Checking the background of the employees, continuously monitoring the security risks and performance audits are some of the popular security measures adopted by NetSuite to thwart vulnerabilities.
NetSuite Is Outdated And hence Irrelevant
You might be thinking that NetSuite for small businesses is outdated and cannot serve your business needs properly. However, the reality is something entirely different. NetSuite is perhaps the only ERP solution which sends regular updates to its features and modules.
And in case you are still apprehensive, NetSuite upgrades all the accounts twice a year which is quite commendable. In short, business owners are always at a good position to receive the updates and steer their company towards the right direction.
NetSuite Cannot Fulfill Your Business Requirements
Many business owners are of the view that NetSuite is too small to help them accomplish their business activities. But in reality, when you opt for a NetSuite license, the picture is entirely different. In case you don't know, a large number of Fortune 100 companies use NetSuite to carry out business operations.
NetSuite offers you the added flexibility to expand your business as it is highly scalable. Moreover, if your company has international pressure, NetSuite would be an ideal option to opt for. With NetSuite, you would be able to deal with multiple currencies and taxation rules. What's more, the NetSuite user interface would easily appeal to you which usually exude practicality to the individuals.
Facing Issues During The Implementation Stage
Many company owners are of the view that the implementation process of NetSuite is quite difficult. But in reality, this is not true. You can consult NetSuite user guides to gain key insights on the various aspects of operating the ERP.
Apart from that, you can also opt for implementation partners who would help with the appropriate deployment of NetSuite ERP on your organizational premises. Note that when you opt for implementation partners, the process becomes fairly easy.
Implementation partners can make sure that your organization's employees easily adapt to the new ERP platform. In short, a NetSuite implementation partner would help you transition to the new ERP platform seamlessly.
Conclusion
Over the years, there have been many myths associated with NetSuite and other cloud-based ERP systems. If you want to steer your organization towards growth, it is important to opt for NetSuite. With its vast set of features, modules and capabilities, NetSuite is indeed one of the most effective ERP solutions out there for businesses.