As e-commerce continues to define new trends and register massive growth figures, merchants are investing more in their online presence. In other words, they are upgrading their technological platforms to deal with increasing customer demands.
But at the same time, a multi-channel strategy can attract undue pressure on your business operations. This is exactly where NetSuite ERP exudes practicality. To be precise, NetSuite suitecommerce builds great ecommerce stores also has many benefits for both the front and back-end operations.
For instance, when this ERP platform integrates fully with your in-house ecommerce platform, it can take care of various issues. Quite impressively, by integrating NetSuite with your e-commerce platform, you would be able to avail substantial administrative savings along with greater efficiencies and higher conversion rates.
So here are the advantages of the ecommerce ERP software and its integration with NetSuite you should be aware of.
Helps You To Facilitate Better Customer Experience
Well, the best ERP for ecommerce wouldn't always help you to facilitate the best customer experience. To be precise, the future of ecommerce depends heavily on customization. An array of customers out there uses multiple channels during their buying journey.
The integration of NetSuite along with your ecommerce platform allows you to comprehend the buying journey of your customer. You would also be able to understand the driving factors that trigger buying decisions and the marketing channels in which they would like to engage.
As ecommerce sales continue to grow, businesses are gearing up to provide a true omnichannel experience. The integration of NetSuite with your existing ecommerce portal allows for a great deal of personalization. You would get clearer insights and hassle-free order processing with NetSuite and its integration.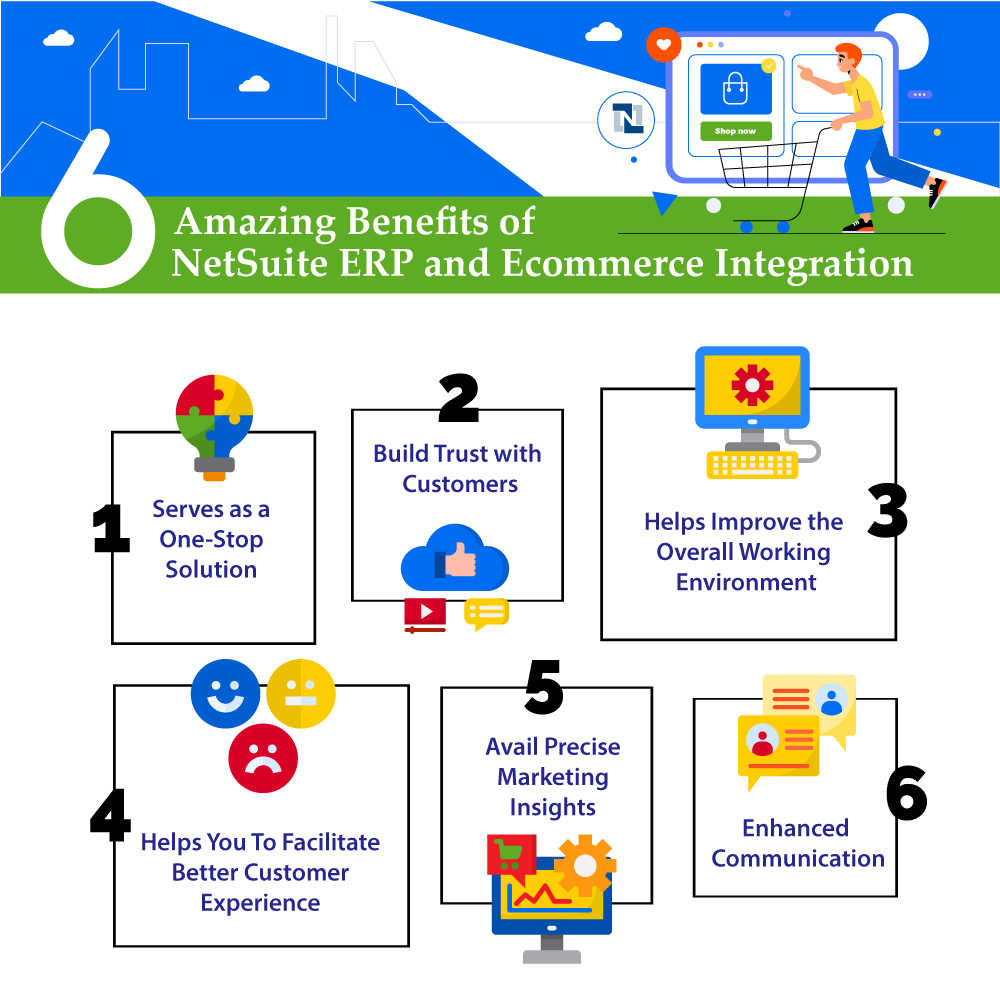 Serves As A One-stop Solution
To be precise, it is a bit complicated to opt for different ecommerce solutions for a single business. You have to keep a tab on everything along with the data and other aspects. This is where NetSuite ERP for ecommerce companies can be a game-changing proposition. Note that NetSuite would be your ideal destination which can manage your entire business.
It has the ability to execute all the operations of your e-commerce store. In simple words, there is no need to switch between multiple apps and software platforms to manage your ecommerce operations.
NetSuite integration also helps you to avoid rising costs emanating from the implementation of varied platforms. NetSuite also makes sure that the information can move seamlessly through the departments and the whole organization. It also automates the manual functions thereby helping you to save a great deal of time and effort.
Read More : 5 Top Ways In Which NetSuite Eases E-commerce Operations
Helps Improve The Overall Working Environment
Well, everyone would refrain from the idea of copying orders and customer information from one platform to the other. In other words, manual ways of copying data can result in serious errors which can affect the stability and reputation of your e-commerce portal. That's why ecommerce and ERP integration is an ideal way to cut down on tedious manual work.
NetSuite can automate almost all the operations of your ecommerce store. This is how your employees would find more time to take up challenging issues that are plaguing your organization. If you are on the lookout to motivate your employees, then NetSuite integration is a good place to start with. As it automates tasks, your employees would find it easy to express themselves creatively.
Build Trust With Customers
By choosing a NetSuite and ecommerce integration service you would be able to foster a relationship based on trust with your customers. It is not always possible to keep your customers updated about the inventory information. So every time the purchase moves to the fulfillment cycle phase, they are usually unaware of the items that are out of stock.
Being more transparent with your users would lead to a better long-term relationship. In shirt, you would be able to facilitate more purchases by updating all the necessary information. With NetSuite ecommerce integration, you would be able to provide clear communication and maintain updated information on your ecommerce portal. Your customers would feel more confident while shopping with you.

Avail Precise Marketing Insights
There is no denying the significance of insights in today's context of business. In other words, as an ecommerce portal, you need to be aware of the various types of data that can fine-tune your operational efficiency. And we all are well-aware of the fact that your ecommerce store cannot generate tons of data manually.
You need an automated system to implement the process of data analysis. With NetSuite integration, you would be able to gather data and analyze them with a greater amount of coordination. What's more impressive is the fact that you would be able to form new marketing strategies by consulting insights. This is the reason that a large number of organizations believe that ERP is key to maintain a competitive edge over others.
Enhanced Communication
With NetSuite ecommerce service, you would be able to enhance communication among the various departments of your organization. In short, all levels of interoffice and outside communications can be enhanced with the help of NetSuite ecommerce integration.
What's more, your agency's ERP and CRM systems can easily communicate so that key information is available easily. Increased communication also makes sure that your employees are well-aware of the ongoing challenges and tasks. With NetSuite integration, your staff members would be able to work on the areas that need a much greater degree of attention.
Conclusion
These are just a few benefits that you will avail with NetSuite and ecommerce integration. But these benefits have helped you understand the significance of NetSuite for sure. But ensure that you choose a reliable implementation partner who would help you with the deployment of NetSuite ERP in your organization. NetSuite and ecommerce integration should also be carried out by a professional who has great knowledge on various aspects.