In the fast-paced world of business, managing contracts well is super important. That's where NetSuite Contract Management comes in handy! It seamlessly connects with other parts of the NetSuite ERP system and helps businesses handle contracts from start to finish.
This powerful tool aligns the whole process from creating contracts, keeping track of them, and even handling renewals and revenue. With NetSuite Contract Management, companies can easily see what's happening and work together better.
In this article, we'll explore the great benefits of using the NetSuite Contract Management system and how it makes contract management a breeze!
Issues Companies Face Without Contract Management Solution
Companies can face several challenges and issues impacting their operations and bottom line without a contract management solution. Some key issues include:
Lack Of Visibility
Without a centralized system to manage contracts, companies may struggle to maintain a clear and up-to-date view of their contract portfolio, leading to missed renewal dates, lost revenue opportunities, and increased risk.
Manual Processes
Relying on manual processes for contract creation, approval, and tracking can be time-consuming, error-prone, and inefficient, resulting in delays and potential inaccuracies.
Compliance Risks
Inadequate contract management can lead to compliance risks, such as missing critical terms and conditions, non-compliance with regulations, or incomplete documentation.
Limited Collaboration
The lack of a standardized contract management system can hinder collaboration among different departments and stakeholders, leading to miscommunication and delays in contract negotiations and approvals.
Difficulty In Contract Analysis
Analyzing contract performance and extracting meaningful insights can be challenging without a dedicated contract management solution, hindering decision-making and strategy development.
What Is NetSuite Contract Management?
Contract Management is a NetSuite module within the NetSuite Enterprise Resource Planning (ERP) system that helps businesses manage their contracts throughout their lifecycle. NetSuite is a cloud-based ERP platform that integrates various business functions into a single unified system, and its Contract Management module is specifically designed to arrange and automate contract-related processes for organizations.
The primary purpose of the NetSuite Contract Management Module is to simplify and optimize the management of contracts, including sales contracts, service contracts, non-disclosure agreements, and more. It offers tools and functionalities to handle various aspects of contracts, from creation and tracking to renewal and revenue recognition.
How NetSuite Contract Management Works And Helps Companies To Manage Contracts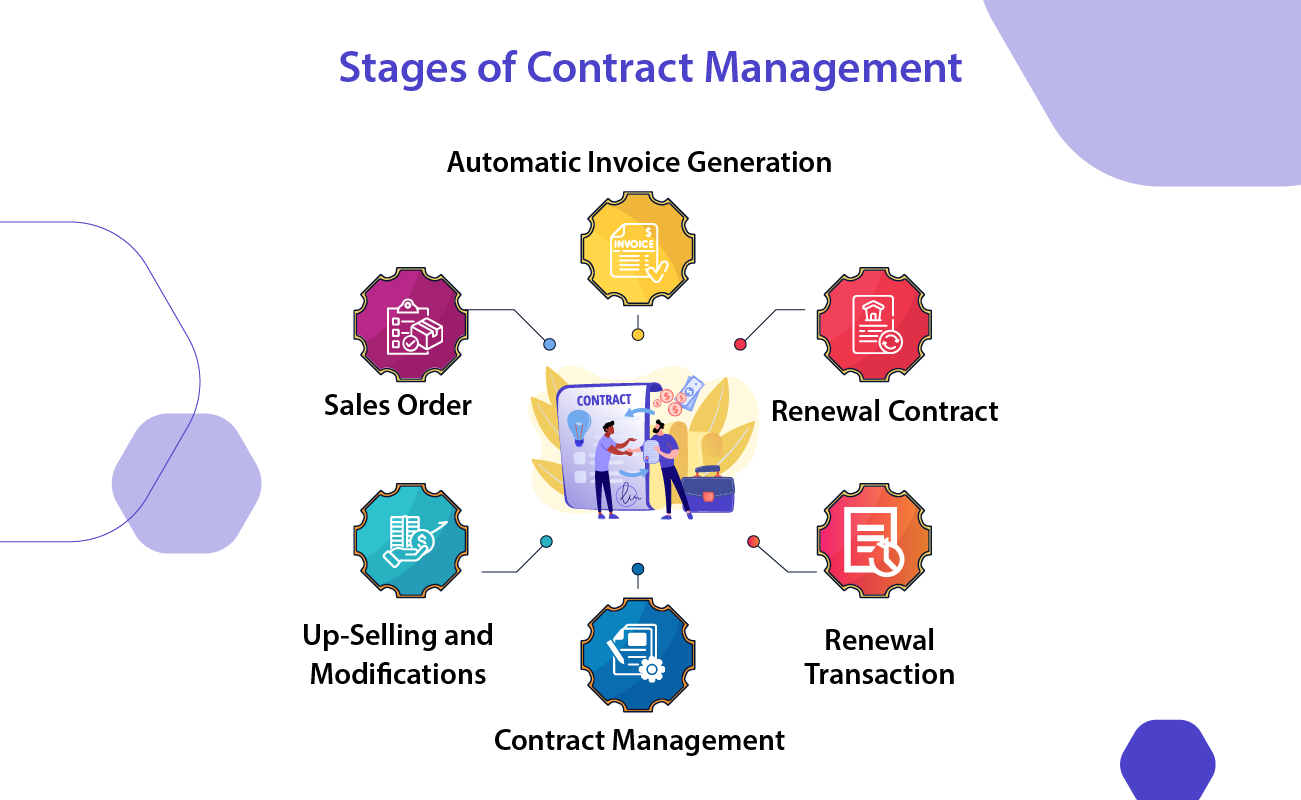 The NetSuite Contract Management process simplifies contracts and helps businesses efficiently manage their contracts.
Here's an overview of its stages of contract management:
Sales Order: The process begins with a sales order, where you enter details like start date, end date, and term lengths specific to contracts. Non-renewing items, such as physical goods, time-billed expenses, and one-time services, are also managed within the sales order. Once approved, a contract is created based on the sales order.
Renewal Contract: A renewal contract is generated after the sales order is accepted. In NetSuite, Contract Renewals can continue indefinitely unless the customer decides to stop using the services.
Up-Selling and Modifications: NetSuite can handle requests to up-sell customers with new services, make changes to existing services, or remove services from the contract. Making sales orders or return authorizations involves minor adjustments to the usual procedure.
Renewal Transaction: NetSuite automatically generates a renewal transaction for renewable products before the contract expires. You can set the timing of renewal transactions, providing flexibility based on your company's needs.
Contract Management: Throughout the process, contracts are imported or scanned and stored in a database. The system is configured with user roles, workflows, authorization rules, and regulations. It categorizes and stores different types of contracts, links recurring invoices to contracts or tracking numbers, and identifies related invoices for each contract.
Automatic Invoice Generation: NetSuite uses the contract provisions to generate supplier invoices if regular invoices are not sent automatically. Users are also notified if scheduled recurring invoices are not received.
Features Of NetSuite Contract Management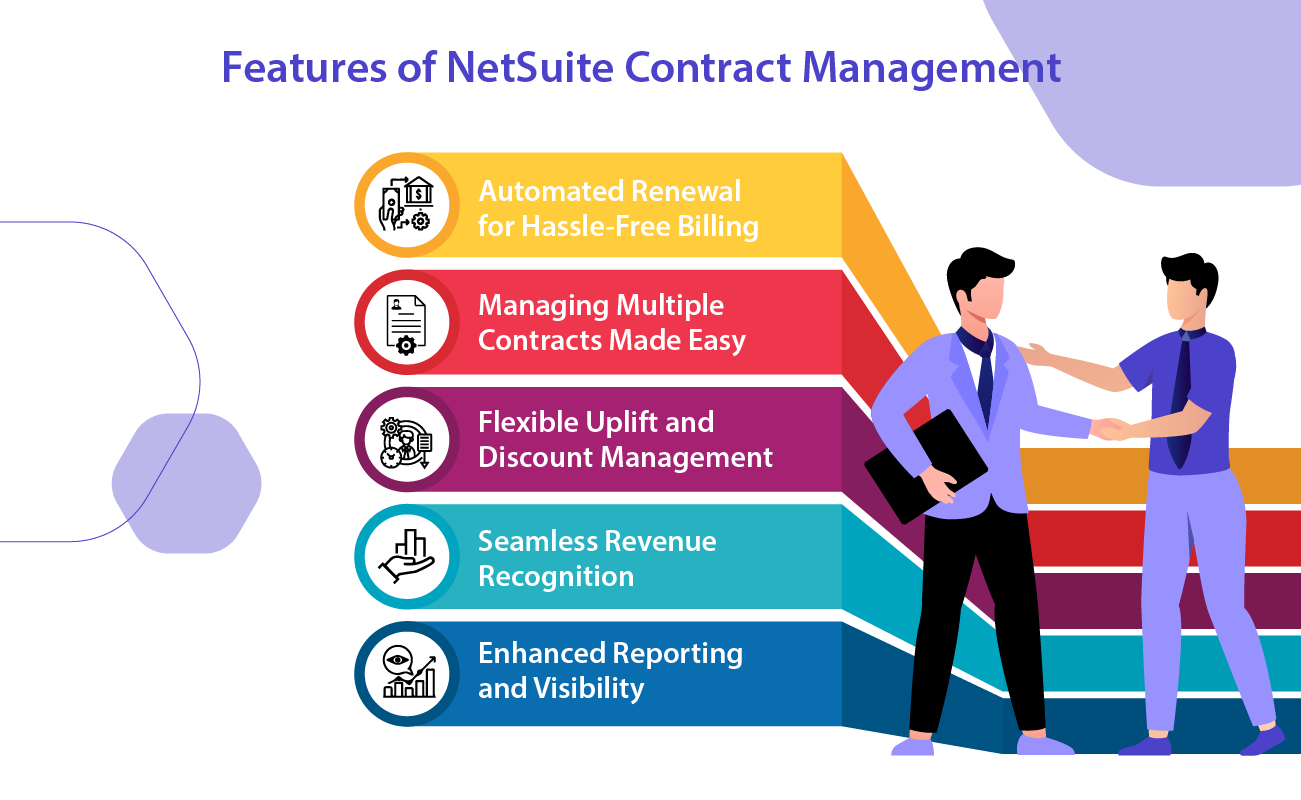 NetSuite Contract Management Module offers a variety of features to improve and automate the contract lifecycle for businesses such as
Automated Renewal For Hassle-Free Billing
NetSuite offers a powerful automated renewal process that benefits software companies providing perpetual and term-licensed products. This feature allows businesses to manage recurring billing for on-premise and on-demand software licenses efficiently.
NetSuite Contract Renewal Module can automatically generate renewal transactions by setting up a predefined window 90 or 120 days before expiration. This assures that renewals are handled promptly, reducing the risk of missed revenue opportunities and arranging workflow, saving time and costs.
Managing Multiple Contracts Made Easy
Dealing with multiple transactions with a customer throughout the year can be challenging during renewal. These transactions may include one-time training or consulting purchases and annual contract renewals for various products, licenses, and support services.
Oracle NetSuite Contract Management simplifies this process by allowing the co-termination of multiple transactions into a single contract with a single renewal date. This approach benefits both the vendor and the customer. However, when co-termination isn't suitable for all items, NetSuite's multi-contract support provides additional flexibility, ensuring maximum revenue during renewal.
Flexible Uplift And Discount Management
Uplifts and discounts play an important role in the NetSuite Contract Renewal Module. Software companies may adjust pricing based on predefined price books, across-the-board increases, or custom changes for specific customers or segments.
Similarly, discounts may be extended to select customers. NetSuite offers the flexibility to implement and customize uplifts and discounts across any range of customers. This ensures that pricing adjustments are managed effectively, reducing the risk of errors, lost revenue, and customer dissatisfaction.
Seamless Revenue Recognition
Recognizing revenue from contract renewals can be challenging, especially when different transactions require separate revenue recognition dates. This can lead to additional processes and complexity during renewal.
NetSuite Contract Management Module provides the flexibility to manage different sets of dates for revenue recognition purposes, allowing for smooth contract renewal and billing processes while accommodating varying revenue recognition requirements without additional spreadsheets or complexity.
Enhanced Reporting And Visibility
Visibility into renewals is needed for optimizing recurring revenue streams. Unfortunately, relying on spreadsheets and manual processes can make tracking and managing expiring contracts, renewal status, priority renewals, at-risk customers, and upsell opportunities challenging.
NetSuite's real-time dashboards offer software companies the visibility and reporting capabilities to manage contract renewals effectively. Key performance indicators (KPIs) and visual dashboards allow staff to track critical contracts, renewal pipelines, upsell opportunities, and more. Interactive drill-down and reporting features enable a granular analysis of customer and contract types, identifying areas for improvement and reducing revenue leakage and customer churn.
Key Benefits Of NetSuite Contract Management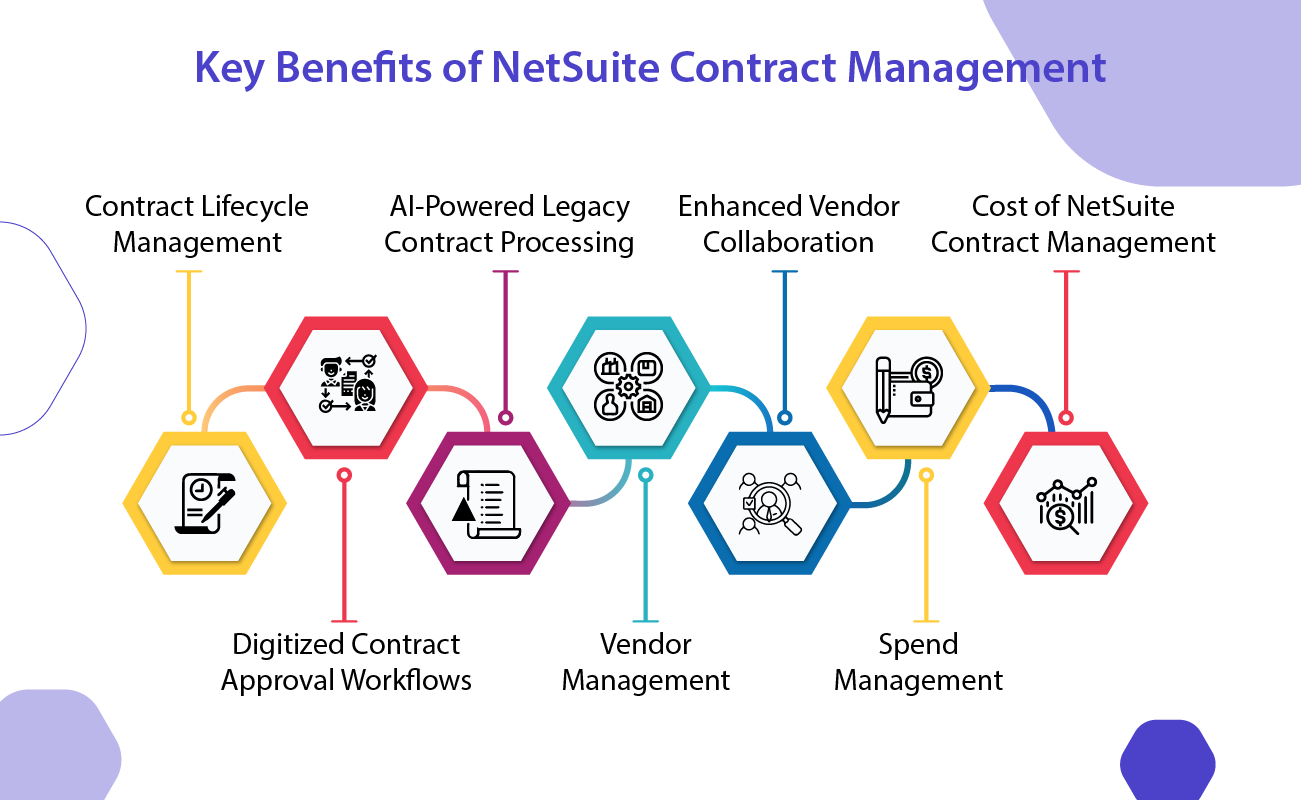 NetSuite Contract Management system provides benefits that enhance contract management for businesses:
Contract Lifecycle Management
NetSuite gives you complete control and visibility over your contract portfolio. You can easily track contract details, important dates, and renewal opportunities, reducing costs and minimizing risks associated with contract management. Additionally, the platform allows for electronic signatures for the contract approval process.
Digitized Contract Approval Workflows
NetSuite enables you to digitize your contract approval workflows, making the process more efficient and error-free. This eliminates the need for manual paperwork and makes sure that contracts are processed and approved promptly.
AI-Powered Legacy Contract Processing
Contract management in NetSuite leverages artificial intelligence to process legacy contracts and synchronize them with vendor records within the system. This automation saves time and resources while ensuring accurate data management.
Vendor Management
The platform offers a two-way sync with NetSuite, keeping your vendor records up-to-date and synchronized. Self-service vendor onboarding with Tax Form collection further simplifies vendor management and compliance.
Enhanced Vendor Collaboration
NetSuite Contract Management promotes enhanced collaboration with vendors, empowering them with self-service data management capabilities. This enables vendors to access relevant information and collaborate efficiently with your organization.
Spend Management
NetSuite facilitates the synch6ronization of Accounts Payable (AP) data, allowing you to control spending at both the contract and vendor levels. This integration helps track and manage expenses related to contracts and vendors.
Cost Of NetSuite Contract Management
The cost of NetSuite Contract Management varies depending on factors such as the size of the organization, the number of users, the level of customization required, and the specific features and modules chosen.
NetSuite pricing typically involves subscription-based plans with monthly or annual fees. To get accurate and up-to-date pricing information for NetSuite Contract Management, it is best to contact NetSuite Implementation Services, as they can provide tailored quotes based on your organization's needs and requirements.
NetSuite Modules That Work Together With Contract Management
NetSuite offers various modules that seamlessly work together with NetSuite Contract Management Module, enhancing the overall ERP experience. Let's explore some of these modules:
SuiteBilling: Oracle NetSuite SuiteBilling provides flexible pricing models like volume, tiered, and flat pricing. It allows custom pricing and discounts for customers, making invoicing more versatile. The module supports change orders, subscriptions, and renewals, giving your team the adaptability to meet customer demands. Real-time activity tracking enables data-driven decision-making.
Fixed Assets Management: NetSuite Fixed Asset handles the entire lifecycle of assets, from creation and depreciation to revaluation and retirement. It automates asset management processes, reducing reliance on manual labor and spreadsheets. The module manages maintenance plans, asset insurance, purchases, depreciation, leases, and sales.
Customer Relationship Management (CRM): NetSuite CRM integrates sales, marketing, and customer management. It includes powerful analytics tools for tracking customer data and identifying areas for improvement. The highly customizable platform is suitable for various industries.
It's worth mentioning that NetSuite CRM also includes built-in contract management, which can be activated when integrated with NetSuite. This feature improves the contract management process, making it more efficient and accessible within the CRM system.
Why Is VNMT Solutions The Right Choice?
VNMT Solutions is the right choice for NetSuite contract management because of our expertise and dedication to delivering top-notch solutions. Our team have in-depth knowledge of the NetSuite platform and understands the unique challenges businesses face in contract management. Our specialized services allow us to seamlessly implement and customize Oracle NetSuite Contract Management to meet specific business needs.
The team ensures smooth integration, offers ongoing support and provides valuable insights to optimize contract lifecycle management. Choosing VNMT Solutions means getting a reliable partner that can maximize the benefits of NetSuite Contract Management, leading to enhanced efficiency and improved contract processes for your organization.

Wrapping Up!
NetSuite Contract Management is a powerful solution that automates the business contract lifecycle. With automated renewals, multi-contract management, flexible uplifts and discounts, and seamless revenue recognition, NetSuite empowers organizations to manage contracts and efficiently improve visibility into critical contract data.
By integrating with other NetSuite modules, such as CRM and Fixed Assets Management, businesses can achieve a unified view of their operations, enhancing collaboration and decision-making. Choosing VNMT Solutions as a partner for NetSuite Professional Services ensures expert implementation and ongoing support, making it the right choice for businesses seeking to optimize their contract management processes.