Summary: Here in this post on NetSuite vs Acumatica comparison we explained -
NetSuite vs Acumatica background and history
Features of both platforms
The reasons to consider NetSuite a better platform

When it is to embracing ERP software systems, many businesses already have left the spreadsheet era behind. There are still others who are using basic accounting systems or legacy CRM solutions but want to switch to something more comprehensive and robust like a small business ERP cloud suite. Fortunately, they have an array of options.
We now have several ERP software vendors in the market. Many of these software solutions come from the world's leading vendors in the field of Software as a Service (SaaS). From Microsoft, Sage, SAP, Acumatica, Deltek to NetSuite, there are quite a few. Recently, NetSuite has been regarded as the best cloud ERP for medium-sized businesses by IDC Marketscape Research. NetSuite bagged this honour among the 8 top vendors offering SaaS ERP Suites.
Acumatica has always been a close contender and a top vendor too. This is why this Oracle NetSuite vs Acumatica comparison is so obvious. Here throughout this blog post we are going to introduce these two ERP platforms, explain their value offerings and key differences.
Source: IDC
A Brief Overview: NetSuite vs. Acumatica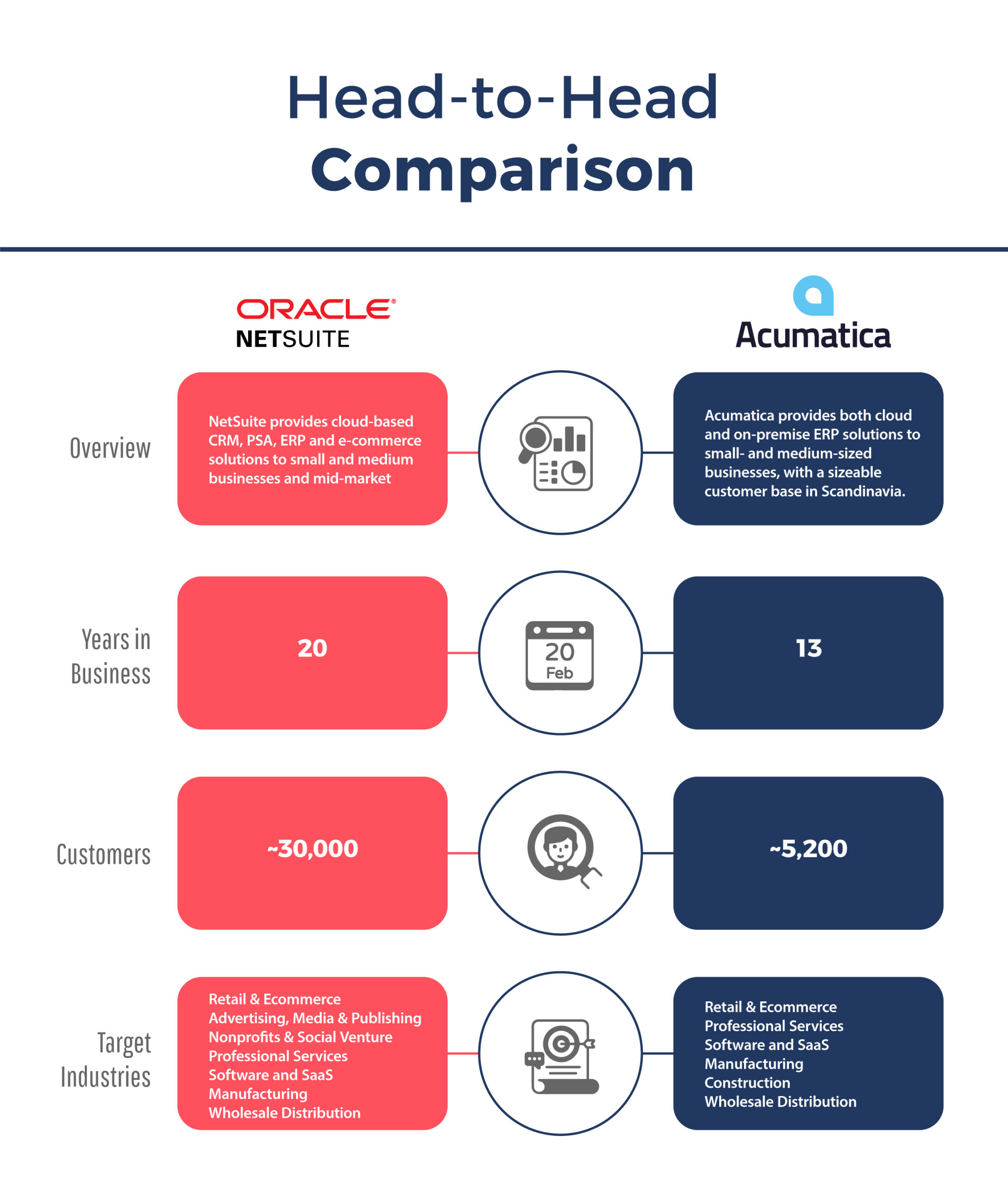 Both NetSuite and Acumatica offer cloud-based, Software as a Service (SaaS) ERP systems. While both offer cloud-based maintenance and updates and ensure easy access through web browsers, Acumatica allows on-premise deployment options as well.
Despite similarities, they fit slightly different types of audiences. NetSuite is more suitable for fast-growing companies and comes with international business management capabilities including international compliance and taxation. Acumatica lacks these capabilities but many small businesses prefer it for its on-premise architecture option.
How Did Both Platforms Start And Grow?
NetSuite was established by an ex-Oracle employee in 1998. From the very beginning, it was conceptualised as a comprehensive software suite for managing complete business operations. NetSuite for small business enterprises and startups has pioneered the concept of cloud ERP systems in the world.
NetSuite was acquired in 2016 by Oracle and since then it continued to evolve faster and opened several new international data centres all over the globe. Now it has emerged as the leading ERP platform with more than 28,000 active users across more than 200 countries. Whether you need NetSuite for manufacturing or retail or supply chain management, the platform offers business and process-specific modules for all.
Acumatica on the other hand was established in 2008 by a team of developers with a background in working in Microsoft's Solomon ERP system project. Acquired by private equity funding company EQT Partners in 2019, it continued to grow its business. With more than 10,000 clients it is regarded as one of the top cloud-based ERP vendors globally.
NetSuite vs. Acumatica: Vertical Industries
Since business processes, operational workflows and data-centric tasks differ greatly from one industry to another, not all ERP systems and their capabilities and features do not suit every industry. Many cloud ERP software solutions also provide industry-focused ERP editions and additional customisation options for particular industries. So, every ERP vendor has its core industry focus areas.
The core industries for NetSuite cloud ERP include apparel, footwear and fashion accessories; food and beverages, restaurants, manufacturing, health and beauty, and several others. NetSuite consultants can further guide businesses about utilising this ERP platform for fulfilling business-specific requirements.
The core industries for Acumatica cloud ERP include mostly small retailers, small manufacturers, suppliers and wholesale distributors, etc.
Feature-Wise Comparison
When it comes to ERP features, both NetSuite and Acumatica offer the key ERP features and capabilities for a whole range of business verticals and processes such as financial, customer relationships, products and services.
Let's have a quick look at the key ways NetSuite and Acumatica can be compared as per the features and functionalities.

Inventory Management
NetSuite provides a more powerful inventory management module ensuring to deliver more useful data-driven insights and more controls for the fixed assets. NetSuite clients get easy access to multiple depreciation and costing approaches such as average cost, standard cost, Last-In-First-Out (LIFO), First-In-First-Out (FIFO) and a few others. NetSuite inventory management suite offers integrated access to billing, business forecasting and demand planning features, barcoding capabilities, and the ability to track asset images. Leading NetSuite implementation partners can further extend these capabilities through custom configuration.
Acumatica inventory management module also offers multiple tools for depreciation and cost approaches. The only downside is that it doesn't support the Last-In-First-Out (LIFO) method. But it provides other capabilities such as integrated billing, barcode scanner, etc.
Both NetSuite and Acumatica provides a Materials resource planning (MRP) suite upon the request of the clients.
Financial Management
Some financial and accounting software tools such as QuickBooks continue to remain popular among small and medium enterprises. But these tools lack robust reporting and analytics tools. Both NetSuite and Acumatica provide advanced financial management and accounting features such as general ledger, financial reporting, payroll management, custom dashboard, vendor listing, etc.
Both software offers a custom dashboard with optimum ease of navigation to follow preferences. Both ERP systems also allow business clients to customise their workflows as per their preferences.
International Business Operation
Particularly regarding features that international business operation needs, NetSuite has a clear edge over Acumatica. If a business wants to expand its international operations across the globe, NetSuite with its support for 190 currencies and 27 international languages offers a better choice.
In contrast, the Acumatica clients need to reevaluate the currencies for transactions manually. Even though Acumatica offers inbuilt localization and translation tools, they don't ensure seamless international business operations without experiencing linguistic and currency barriers.
For businesses with several international subsidiaries also NetSuite comes a more suitable software solution. NetSuite by providing multi-layered subsidiary management from within the same software framework, ensures more streamlined operation across multiple subsidiaries spread all over the globe.
Another area that deserves attention is that unlike NetSuite Acumatica doesn't comply with certain accounting standards and principles such as Generally Accepted Accounting Principles (GAAP) and the International Financial Reporting Standards (IFRS).
CRM Capabilities
Both the NetSuite and Acumatica provide crucial CRM features such as built-in marketing tools, salesforce automation, campaign management, customer service and support automation and a self-service portal for customers. NetSuite integration services can also integrate third-party and legacy CRM tools for consolidated CRM management.
Human Resources (HR) Management
Acumatica provides out of the box payroll management as a core feature and for the rest of the Human Resource management solutions, it depends on the partners.
NetSuite in complete contrast provides several key HR management capabilities out of the box. Apart from comprehensive payroll management and some key HR management features, NetSuite offers the SuitePeople module with all capabilities and features required by HR managers such as HR reporting, employee self-service, employee management, productivity management and performance management.
Reporting and Analytics
Both NetSuite and Acumatica offer pré-configured reporting features, data analytics, business intelligence and customisable dashboards. Both ERP systems allow self-service reporting. With Acumatica business users when incorporating customisation does not need to write any code. But the scope of customisation in the workflow is very limited.
NetSuite on the other hand allows granular level customisation with or without writing any code. Unlike the cumbersome sub-ledger architecture of Acumatica, NetSuite makes things simple by accommodating all data within a single database. A user just by using the global search function can access all information within a single view and doesn't need multiple tabs to show information. This can also save comparatively more time for the workforce compared to the users of Acumatica.
Pricing Comparison
Another key area of difference between NetSuite and Acumatica is pricing. NetSuite sticks to the common and straightforward approach of direct selling the software through its alliance partners. Acumatica in contrast offers a Pay You Use model and users only need to pay only for the services they use.
There is a big thumbs-up for the pricing model of Acumatica because of its enhanced flexibility. You just need to pay for the application you use and you can choose as per the projected consumption. The model appears to be more flexible with better accessibility for businesses of all sizes. This is only good in case you consider flexibility as the biggest concern.
The pricing of NetSuite ERP is more direct. You need to either purchase the software through the in-house sales team or the third-party alliance partner organizations or through the BPO partners of NetSuite in case you need just the accounting module. The pricing will go up depending on the number of users you want to add to the software.

Why Should You Choose NetSuite?
According to the IDC report mentioned at the beginning of this post, NetSuite is considered to have the ability to completely transform a business through process automation. The business process automation suite developed by NetSuite ensures faster global business expansion with consolidated enterprise systems covering multiple processes.
NetSuite leads the cloud ERP market because of its robust modules covering all business processes and additional features and capabilities to address international business expansion needs. If a business wants to embrace cloud ERP for global business expansion, it would find NetSuite as the most comprehensive, complete, scalable and customisable cloud ERP platform to shape its growth stories perfectly.
Final Note 
Let's agree on the point that Acumatica is a well-equipped cloud ERP solution that equals NetSuite on several aspects but not all. NetSuite remains several notches ahead of Acumatica because of its robust and comprehensive feature set, high degree of customisation and features supporting international business operations. 
About
VNMT
VNMT is a leading NetSuite alliance partner with a global footprint. Do you want to know with practical examples and case studies of our NetSuite projects about why NetSuite leads in the cloud ERP market? We are all awake to listen to you. Just let us know your query by dropping an email.