The value propositions of the NetSuite ERP platform are already well known to the industries. Over the years, NetSuite has emerged as the most powerful cloud ERP solution for enterprises of all niches and sizes. NetSuite is not only comprehensive and robust, but it is also highly modular, extensible, and customisable as per enterprise needs and budget.  
Here we are going to present the most comprehensive and detailed guide on Oracle NetSuite pricing and licensing. From the pricing of different NetSuite solutions here we are going to explain the cost of NetSuite implementation and NetSuite small business pricing.
NetSuite Pricing Based On Suite

NetSuite suites come in three editions such as NetSuite Limited Edition, NetSuite Mid-Market Edition, and NetSuite Enterprise Edition. NetSuite ERP pricing depends primarily on these three choices.
NetSuite Limited Edition: NetSuite Limited Edition is priced for small businesses and is ideal for enterprises not requiring more than 10 user licenses and enterprises with less than 50 staff. 

NetSuite Mid-Market Edition: NetSuite Mid-Market edition is priced for mid-category enterprises not requiring more than 10 licenses and has one or more legal entities. 

NetSuite Enterprise Edition: NetSuite Enterprise edition is priced for large companies requiring more than 1,000+ licenses. 
 NetSuite Pricing Per User
As for the licensing cost per user, NetSuite pricing models come as either concurrent licensing or named user licenses. For end-users, NetSuite offers the "named user" model.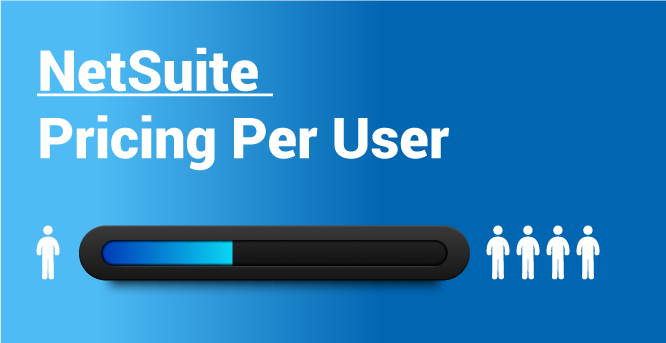 A specific user license is needed for several enterprise roles like Operations Head, Controller, Sales Manager, Customer Support Professional, etc. 
Any user using the NetSuite system on a regular basis needs a full user license. Apart from this, there are also user licenses for people carrying out limited tasks.
Advanced NetSuite Module Pricing 
Just corresponding to the unique characteristics of the company, one may require more or less than the standard NetSuite CRM and ERP software features. This is where the advanced modules come in. NetSuite provides too many advanced modules that can be added against separate licensing costs.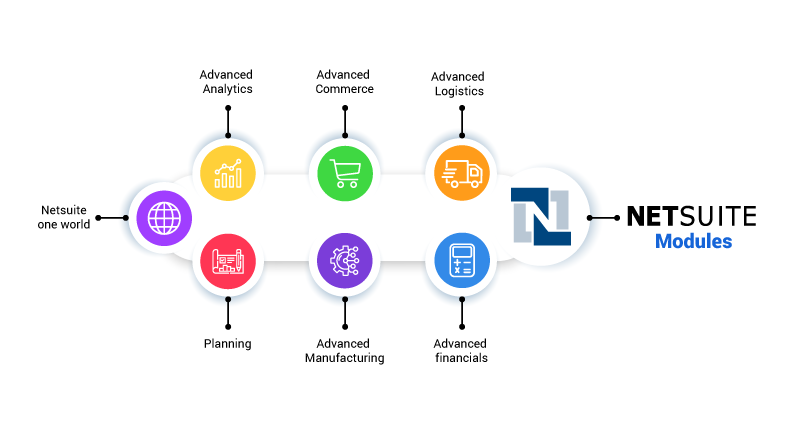 NetSuite advanced modules come with "à la carte" pricing, though you can always take them together just as an Industry-specific suite of tools. The pricing of NetSuite advanced modules and industry-specific suites fluctuate and depend upon the chosen edition such as Limited, Mid-Market, and Enterprise. 
NetSuite offers a very open architecture with a modular licensing model to provide a lot of freedom and flexibility to make additions and alterations of modules as per necessity.
Read More: A Comprehensive Guide To Netsuite Modules
NetSuite Pricing For Small Business
NetSuite comes with a dedicated Small Business Suite that basically targets smaller businesses and startups. Oracle Small Business Suite from NetSuite comes as a special package specifically targeting small business ERP needs. 
Earlier small businesses used to stay away from NetSuite because of the expensive price tag and offerings that are targeted mostly to large companies. This scenario was changed when Oracle took over NetSuite and came with a specific small business suite packaged with solutions and priced accordingly.  
NetSuite continued to come with lucrative packages for emerging enterprises and small businesses. NetSuite also came up in rêvent times with a multitude of starter packages with befitting price points and flexible options.  
NetSuite Implementation Cost
Coming to the NetSuite implementation cost, giving a straightforward answer is a bit difficult since the implementation complexities, challenges and cost vary as per the customer requirements. But still, we would like to deliver a better overview of this cost factor as well.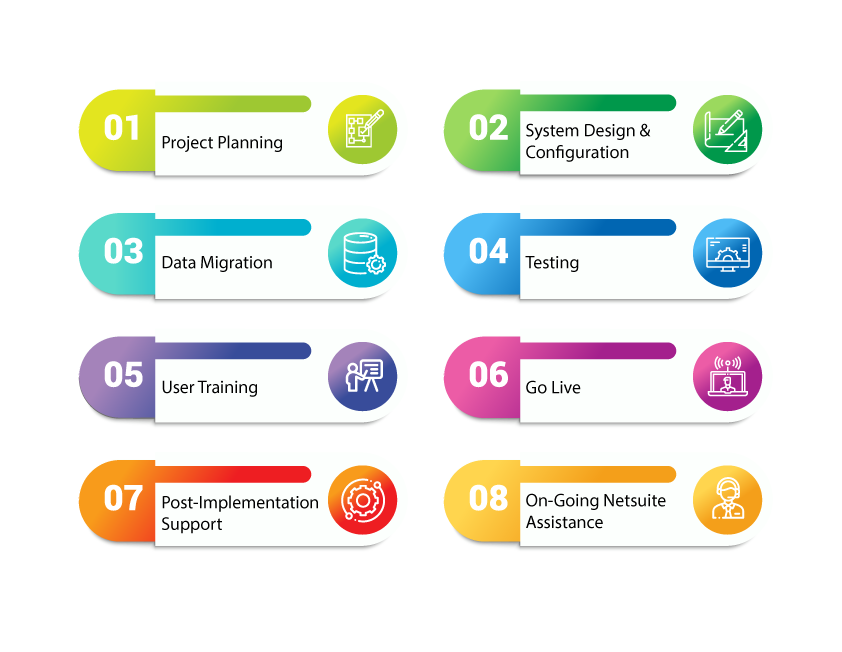 Evaluation And Analysis 
Most NetSuite implementation services will start with an evaluation and analysis of the implementation scope and corresponding challenges. The span, depth, and analysis method will vary as per the business.
The principal objective is to build up familiarity with the implementation team and accordingly find out solutions that can address your requirements. A Business Requirement Document or BRD needs to be produced and as per this document, the configuration and required solutions will be determined. 
Make sure the NetSuite implementation company spends considerable time ranging from 50-150 hours to evaluate and document requirements. The rate charged by the firm depends upon the geographic location, expertise, and typical challenges involved in the project. 
Read More: Top 11 Considerations For Choosing A Netsuite Implementation Partner 
Configuration And Deployment 
When BRD is completed and fully accepted, the tasks corresponding to the configuration and deployment start. Though it depends upon the implementation methodology and deadlines for different objectives, there should be at least 2-3 configuration sessions every week over a period of 10 – 14 weeks. Following this, there should be user acceptance testing (UAT) before it becomes live online. 
The pricing of the entire implementation depends heavily upon the efforts put in configuration and deployment. The configuration and deployment generally take around two-thirds of the effort in a project.  
For projects with a limited budget and very limited scope, the NetSuite partner can be asked whether they support self implementation with or turnkey solutions to make things easier. 
Custom Implementation 
NetSuite offers a lot of scopes for customization and they are very helpful for automating the processes and breaching the gaps with standard NetSuite features.  In terms of NetSuite customizations, customers generally have two broad options such as SuiteScripting and SuiteFlow. 
SuiteScripting helps developers to develop flexible and highly customised business logic for tailor-fit NetSuite implementation as per specific business needs. SuiteScripting helps to automate business processes or to program completely fresh new apps for the business.  
SuiteFlow on the other hand helps users without a technical background to create easy to interact workflows that allow drag and drop and point-and-click actions and gives complete freedom from coding. 
Most industry experts suggest that the companies should set aside a considerable budget for customization. Though NetSuite is all-encompassing and comprehensive enough for the vast majority of companies, there are many instances where business-specific needs can only be addressed with customization. 
NetSuite Integration  
Finally, NetSuite is also extensible and with NetSuite, integration businesses can take advantage of integrating other leading apps with NetSuite. The SuiteCloud platform in this respect comes to the aid of customers.

Conclusion 
We only could explain the pricing attributes briefly here and provided an outline for the different cost components. With a tremendously modular platform, NetSuite is really helpful in lowering the overall NetSuite cost corresponding to licensing and implementation.